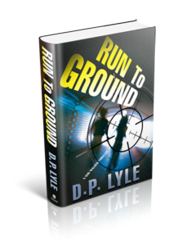 "This intriguing novel, built on a grieving family's revenge for the murder of their son, is a study in contradictions…pulls the reader in and won't let go." — Booklist
Longboat Key, Florida (PRWEB) June 28, 2013
The Independent Book Publishers Association has awarded D.P. Lyle, M.D. their 2013 Benjamin Franklin Silver Award™ in the Mystery/Suspense category. Dr. Lyle, no stranger to awards, is author of many non-fiction books as well as numerous works of fiction including the Samantha Cody and Dub Walker thriller series and the Royal Pains media tie-in novels. He has worked with novelists and writers of popular television series, such as Law & Order, CSI: Miami, Monk, and Cold Case. His non-fiction works, Murder and Mayhem, Forensics For Dummies, Forensics and Fiction, Howdunnit: Forensics, More Forensics and Fiction, and ABA Fundamentals: Understanding Forensic Science, clearly display his expert knowledge about the science of forensics.
D.P. Lyle applies his forensics knowledge in Run To Ground, the third book in the Dub Walker series. In Run to Ground Lyle explores the grief of Tim and Martha Foster, who lost their only child to a convicted murderer...a convicted murderer who is to be released due to a technicality.
The story line as issued by Oceanview Publishing:
"What would you do if someone brutally murdered your only child, served only months in jail because of a technicality, and continually taunted, even threatened, you from behind bars? Could you hide your growing rage from family and friends? Could you gun the killer down as he left prison? Could you change your ID and leave behind your entire life — family, friends, jobs, house — and just disappear? Could Tim and Martha Foster do this?
"Forensic evidence and criminal behavior expert Dub Walker, along with best friend and homicide investigator T-Tommy Tortelli and ex-wife and TV reporter Claire McBride, employ all their skills to track down the Fosters.
"Dub quickly learns that the murder of Walter Whitiker is not as simple as it seems and Tim and Martha are not the only ones who want Walt dead. Are they truly as clever as they seem or did someone twist the evidence to keep the hot light of suspicion on the Fosters?"
Run to Ground (ISBN 978-1-60809-057-0, $25.95) is distributed by Baker & Taylor, Ingram, Bookazine, and Midpoint Trade Books. It is available through public libraries and all fine booksellers. Run to Ground is available in hardcover, all eBook formats, and audiobook.