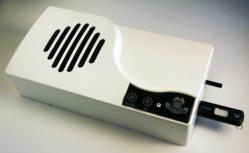 You can't knock it.
Sparta, NJ (PRWEB) June 28, 2013
Predominance LLC, the manufacturer of the Tommyknocker Digital Doorbell, has reduced the price of the digital device to $99.95 for a brief 2 week trial period that will end July 10. Predominance said the trial price was an important bench mark in determining a competitive marking strategy. The doorbells are currently manufactured in the United States in quantities that keep the manufacturing costs on the high end. The company plans on continuing production in the US.
The Tommyknocker Digital Doorbell was launched in 2011 as the only patented digital doorbell in the US. The device is designed to upload digital MP3 sound bites through a USB memory stick supplied with the doorbell. Product demand for the Tommyknocker has been surprising according to Predominance LLC CEO Scott Steinetz. The Tommyknocker is the only digital doorbell that does not use any analog means to store or upload sound files. All doorbells are manufactured with a 4" full range audio speaker and bolted to a rigid steel chassis. The enclosure is designed to help project audio up to 90 dB SPL when the volume is turned all the way up. Each Tommyknocker comes with a mounting plate, wiring pigtail, connecting hardware and USB memory stick.
Predominance LLC is a start-up with continued concerns for the environment. The company packages their products without plastic bags, Styrofoam or any other materials that cannot be recycled. Predominance says very effort is taken to reduce an environmental footprint. Customers can order the Tommylknocker at the http://www.tommyknockerdoorbell.net or ebay.