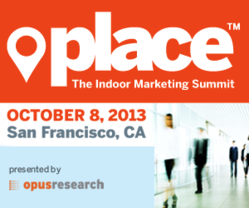 Indoor location is a huge new opportunity for retailers and brands; it's much larger than people currently realize
San Francisco, CA (PRWEB) June 27, 2013
Don Dodge, Developer Advocate at Google, will deliver the keynote address at "Place: The Indoor Marketing Summit" in San Francisco on October 8. 2013. The first-of-its-kind event brings together executives from the emerging ecosystem of companies deploying and adopting indoor location technologies, which will transform retailing, mobile marketing and potentially even online advertising.
Indoor location creates compelling new opportunities for retailers and brands to improve the customer experience in stores and at the point of sale. It also generates new and valuable "big data" about how, when and where consumers shop.
Dodge and other presenters will describe how the "indoor marketing revolution" has arisen out of the explosion of smartphones and widespread deployment of location technologies in stores, malls, museums and airports. Marketing is now poised to shift "from the last mile to the last aisle."
"Indoor location is a huge new opportunity for retailers and brands; it's much larger than people currently realize," said Don Dodge Google Developer Advocate. "I'm excited to be speaking at Place 2013 to help the broader market understand that opportunity."
In advance of Place 2013, Opus Research will release a report defining the ecosystem and outlining the opportunities made available to brands, retailers and marketers through indoor location. Place-based indoor marketing has the potential to impact billions of dollars in retail merchandising, brand advertising and co-op marketing.
The conference is programmed by Opus Research's Greg Sterling and builds on his more than a decade of experience and analysis of location-based marketing. Topics to be addressed at Place 2013 will include:

Mapping the Indoor Marketing Opportunity – Understanding the value proposition of indoor positioning
Ad-Tracking to the Point of Sale – How matching in-store visits to mobile and online ad exposures will change digital marketing
"Google Analytics for the Real World" – What indoor "big data" mean for retailers and marketers
Opt-in vs. Opt-out – Consumer adoption scenarios and privacy concerns
Microfencing – In-aisle targeting and brand "conquesting"
Technology demos and case studies from retailers and indoor marketing vendors
Opus Research is finalizing the speaker lineup and agenda. To learn more about participating, speaking or sponsoring Place 2013, please contact Pete Headrick pheadrick(at)opusresearch(dot)net or call 415-904-7666.
For more information visit: http://placeconference.net
About Internet2Go:
Internet2Go – an Opus Research Advisory Service - captures the emerging opportunities created when wireless, real-time communications and content delivery are aligned with location-targeted advertising and transactions. Search initiates relevant content discovery and mobility extends the Web-based experience into the dynamic need-it-now environment of wireless. Geo-targeting creates value for both advertisers and communities of users.
http://internet2go.net
About Opus Research:
San Francisco-based Opus Research is the leading IT industry analyst firm focused on "conversational commerce" merging automated speech processing technologies, contact center automation, enterprise collaboration, and mobile commerce. http://opusresearch.net