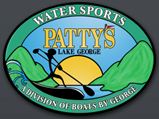 Cleverdale, NY (PRWEB) June 28, 2013
Patty's Water Sports, a sporting goods supplier located in Cleverdale, New York, is providing water sports gear, rentals and stand up paddle boarding lessons. In effort to provide their shop's latest addition of SUP boards, Patty's Water Sports has planned a fun and informative event for locals looking to learn about the shop's new sport and its physical health benefits. Saturday, June 29th from 9AM to 4PM, they will be holding the SUP Demo Day and Yoga & Paddle Fit Demos. The SUP demos will take place from 12:00 p.m. - 2:00 p.m. Tobey Gifford from the Lemon Tree Yoga Studio will be available between those hours to discuss SUP yoga and provide demos.
Rain or shine, Patty's Water Sports is providing a day of special incentives on all paddle boards and accessories, and with yoga and paddle fit demos. The purpose of the SUP Demo Day is to offer an overview of SUP accessories and gear, instruction on how to perform the sport, and how it grants an array of physical health benefits. The company will have factory reps on hand to further assist attendees with any questions and with board and accessory-inquiries.
Patty's Water Sports is an integral part of Boats by George, first founded in 1982. As the world of water sports has progressed, so has the company as Patty's came into play in 2005. After 20 years, George, the owner, and his wife Patty, have followed the progression of boating accessories and water sports products over the past few decades. From a large selection of water-world accessories to stand up paddle board lessons, they are now looking to shed some new light on the latest, rapidly growing water sport with their upcoming informative SUP demo day and yoga & paddle fit demos.
People everywhere are saying that SUP boarding "lets you feel like you're walking on water."
Patty's Water Sports is placing sales to the side while introducing the health benefits of yoga and paddle boarding. Yoga combined with SUP boarding, provides riders with an increased sense of focus, balance and core strength. The SUP demo day will give prospective attendees a look at helpful yoga stretches and exercises to further pursue in the healthful sport, and information regarding potential stand up paddle boarding lessons.
Patty's Water Sports welcomes prospective riders to join in a fun in the sun-SUP Demo Day. Saturday, June 29th from 9AM to 4 PM, the company will be holding its first informational meeting on stand up paddle boarding. Their focus on continuously providing the latest water sports and boat accessories and gear, is now allowing the people of Lake George new ways to enjoy the water.
For more information on the above content, please contact Patty's Water Sports at:
Patty's Water Sports
291 Cleverdale Rd.
Cleverdale, NY 12820
Phone: 518-656-9353
Email: patty(at)boatsbygeorge(dot)com
Phone: 518-656-9353
Email: patty(at)boatsbygeorge(dot)com