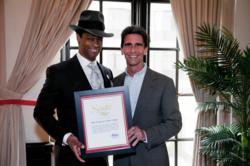 San Francisco, CA (PRWEB) June 28, 2013
In 2012, San Francisco Lodge No. 3 of the Benevolent and Protective Order of Elks commissioned the reconstruction of the terra cotta balustrade that originally adorned the front of their spectacular 1920s Spanish Gothic building in historic Union Square. Sunday's celebration was the culmination of many years of effort.
The celebration was lead by President of the Lodge, Nasir Shakour, who said: "One thing I love about San Francisco is how, like all great cities, we embrace history and make it our own. This BPOE balcony is a great example of how we can enhance upon history while remaining faithful to it." Shakour then introduced Senator Mark Leno to the standing-room only crowd of members and guests. Leno and Shakour both shared stories about being originally from the Midwest; and Senator Leno went on to share his experience of enjoying an Elks club with his family while growing up.
Senator Leno then presented the San Francisco Elks with a certificate stating "Congratulations on the grand re-opening of the legendary San Francisco Elks Lodge. It is an honor to join your members, family and friends as you celebrate the completion of the work done to renovate the lovely balcony adjacent to your dining room." Shakour and Senator Leno then conducted the ribbon cutting and opened up the doors to the balcony, encouraging attendees to finally step out and enjoy the view.
The ribbon cutting was also attended by City Supervisor David Chiu who presented a Certificate of Honor to the Elks Lodge and noted the long history of charitable works done by the Elks in San Francisco.
The current Elks' building was commissioned in the early 1920s. The Elks commissioned the architects F.H. Meyer—one of the designers of San Francisco's City Hall—and A.R. Johnson to design their new home at 450 Post Street. Their 15-story terra cotta-clad creation opened in 1925. Originally, an elaborate terra cotta balcony balustrade graced the exterior at the third floor. Unfortunately, by the 1960s, the balustrade had deteriorated and was deemed a falling hazard, and was subsequently replaced with an unglamorous steel railing extending about five feet from the building.
Considering the historic and architectural importance of 450 Post Street, as well as its position in the commercial heart of San Francisco, the San Francisco Elks worked with ARG Conservation Services to restore the historic element of the building. David Wessel, a Principal of ARG Conservation Services, was also present at the celebration: 'It has been a pleasure to collaborate with the Elks Lodge. This project restores the crowning element of a significant downtown historic building, the visual symbol of an organization that represents the best in public service and philanthropy.'"
The Elks share their building with several businesses, including the SF Playhouse who provided open tours of the theater during the celebration. Proceeds from Sunday's event benefited scholarships for high school seniors in San Francisco.