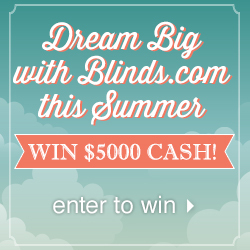 Blinds.com 'Dream Big' sweepstakes offers $5000 CASH prize to one lucky winner.
Houston, TX (PRWEB) June 28, 2013
Blinds.com, the world's largest online window covering store, has announced the launch of their summer 2013 'Dream Big Summer Sweepstakes' and $5000 cash prize.
Entering is fast and easy, with no purchase required, on their site at: http://blnds.cm/5kdreambig
Entrants must submit their name and email address via the sweepstakes form by September 9th, 2013. Social Media savvy entrants may earn additional sweepstakes entries by sharing the 'Dream Big Summer Sweepstakes' app (http://a.pgtb.me/MNBr1c) with their Facebook friends.
The 'Dream Big Summer Sweepstakes' is open to United States residents over the age of 18 years old. Good luck! The Blinds.com team is rooting for you.