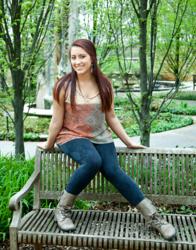 Fun and amazing high school senior photos
Carmel, Indiana (PRWEB) June 27, 2013
More fun for the Class of 2014 as Wyant Photography partners with Mary and Martha's Exceedingly Chic Boutique to make amazing high school senior photos.
This combination of Wyant Photography located in the northwest corner of Hamilton County, also in the northeast corner of Boone County and Mary and Martha's located in the Carmel Arts and Design District at 111 West Main Street, Suite 120 will give this year's seniors more variety for clothing options, more fun with their high school senior photos and great savings on an outfit and photographs.
To show off their clothing Mary and Martha's is allowing female seniors that are using Wyant Photography for their senior photos to either borrow an outfit for the senior photo session or if the senior would like to keep the outfit they will receive a 15% discount to purchase the outfit. The photos then will be shared in the store as modeling photos, a YouTube video will be available for customers to see through a QR code and the photos will be shared through a smart phone album that Mary and Martha's clients can bookmark to their smart phone.
Mary and Martha has a wide variety of fashions including; Free People, CJ by Cookie Johnson, Joseph Ribkoff, Brighton, Mark Stars, and more. New outfits arrive up to three times a week, so there is always a great variety to choose from. The store representatives are always helpful and will make sure the seniors outfit is unique.
Wyant Photography also has a great variety to add to the beautiful fashions of Mary and Martha's. Their local location at Country Harmony is a ten acre portrait park that includes a creek, pre civil war barn, pond with a waterfall and several flower gardens.
But, Wyant Photography also offers a unique variety of locations sessions that includes; the Indiana Dunes, White River Gardens at the Indianapolis Zoo, Indianapolis Canal, Carmel City Fountain, the seniors home or lake house. Making the senior photos more personal and a lot of fun by selecting a location that is more personal or the type of fun the senior would like to include.
Wyant Photography will also be offering a free session through the month of July for any senior girl that would also like to participate in modeling an outfit from Mary and Martha's Exceedingly Chic Boutique. The offer of modeling with Mary and Martha's clothing will be available through the month of October, although the specials might change after July.
Combining these great fashions for the unique look at Wyant Photography will guarantee that the senior photos will be the highlight of the senior year.
To schedule an appointment contact Wyant Photography at (317)663-4798 or visit their website for details at wyantphoto.com. Wyant Photography representatives will then make arrangements for a fitting at Mary and Martha's Exceedingly Chic Boutique.