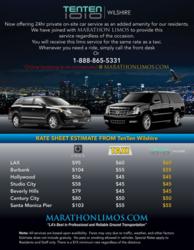 Los Angeles, CA (PRWEB) June 27, 2013
TENTEN Wilshire has signed an exclusive deal with Marathon Limos to bring discounted pricing to their residents. This 24-hour private car service will be provided at the standard taxi rate, and this will enable TENTEN's residents to ride to the airport or anywhere else in the local area in style. In order to ensure that a vehicle is available at the necessary time, residents are encouraged to book in advance online at http://www.marathonlimos.com or by calling (888) 865-5331.
This exclusive discount is guaranteed to save TENTEN's residents money over the standard limo rate. For example, getting a ride to Burbank typically costs approximately $104 in a limo and $55 in a taxi. Because of this special partnership, TENTEN and Marathon Limos are now offering the same ride for only $55. The difference between arriving in one of Marathon Limo's stylish vehicles and a taxi is clear, and this makes the service a nice addition to the long list of perks that TENTEN's residents enjoy.
In order to qualify for this discount, the rider needs to be a resident or staff member of TENTEN. Pricing is based on the exact distance, so the Burbank example listed above may vary depending on the destination. Outside factors such as weather and traffic may impact the total price, and Marathon Limos prohibits smoking and pets in their fleet of vehicles.
TENTEN Wilshire is an exclusive luxury community with short and long-term rentals that provides high quality furnishings for each suite. Residents are able to take advantage of free in-suite wireless Internet access and free local telephone calls. Additionally, the community includes a gorgeously appointed pool area, a hi-tech fitness center and rooftop events that provide stunning views of the city. TENTEN also has a firm understanding of the needs of their business residents, and the building includes business centers and conference rooms that can be used for networking and other important functions.
Marathon Limos offers their corporate SUV service to the entire Los Angeles area. Their fleet of vehicles includes the Cadillac Escalade ESV, the Chevrolet Suburban and the Lincoln Town Car. These vehicles can transport up to seven passengers at one time. Marathon Limos is dedicated to providing fast and courteous service, and they also pride themselves on offering new vehicles to ensure that their clients have a comfortable experience. To meet this goal, all of their Escalade and Suburban vehicles are 2013 models.
The exclusive partnership between TENTEN Wilshire and Marathon Limos makes perfect sense because both companies are committed to offering the finest options to their clients. To learn more about TENTEN, visit http://www.1010wilshire.com or call (877) 338-1010. Residents can also contact the front desk to learn more information about Marathon Limos and the price structure for a ride anywhere in the greater Los Angeles area