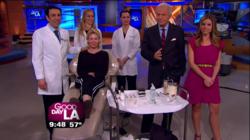 Los Angeles, CA (PRWEB) June 28, 2013
According to a June 21, 2013 US News and World Report article, titled "Look Beyond the Sun for Skin Cancer Culprits, Doctors Warn" skin cancer rates have been increasing dramatically in recent years, and more evidence points to tanning booths playing a role in this increase. (Go to goo.gl/XRPWi).
"I can't stress to my patients enough that they should avoid tanning booths," says Dr. Simon Ourian, Medical Director of Epione Beverly Hills. "The UV light produced in tanning booths has the same cumulative effect as natural sunlight when it comes to skin damage. However, they are potentially more dangerous, as people are more likely to expose themselves for longer times in the privacy of a booth than they would outside."
According to the article, 3.5 million cases of the squamous and basal cell types of cancer are diagnosed in the U.S. each year. These are the non-melanoma types of skin cancer. Melanoma is diagnosed in approximately 75,000 people in the U.S. each year, and about 9,000 die from it. There is evidence that tanning booths are an important factor in the recent increase in melanoma. Anecdotally, physicians are reporting that the age of melanoma patients is getting lower.
The article goes on to say that other factors are associated with increases in skin cancer are exposure to some industrial chemicals, unrelated diseases that have forms of melanoma as a secondary effect, and, possibly exposure to the light from environmentally friendly, florescent light bulbs. Skin cancer rates are also higher in people with fair skin and people who experienced severe sunburn in childhood.
"I recommend that people reduce their risk of skin cancer by using sunscreen when spending time in the sun, avoiding exposure to the sun at mid-day during summer months, seeing their doctor if they detect any changes to their skin, and eliminating time in the tanning booth," says Dr. Ourian.
Dr. Ourian has been a pioneer in laser technology and non-invasive aesthetic procedures including Restylane, Juvéderm, Radiesse and Sculptra. These treatments are used for the correction or reversal of a variety of conditions such as acne, acne scars, skin discoloration, wrinkles, stretch marks, varicose veins, cellulite, and others. More information about protecting against skin cancer can be found on Epione's website.