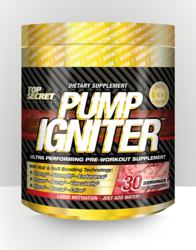 A supplement that addresses all the factors that lead to an optimal workout.
Miramar, Florida (PRWEB) June 28, 2013
Top Secret Nutrition has built its reputation by meticulously designing and marketing unique, industry leading and effective nutritional supplements of the highest quality. The Pump Igniter™ pre-workout supplement is the latest innovation from the Top Secret Nutrition labs. Pump Igniter™ pushes the pre-workout supplement category to a new level by combining the newly created HydroCarn™ Beta-alanine HCL with incredible nootropics, and No2 and No3 boosting science.
Pump Igniter™ will be the most holistic and effective product in the market. Pump Igniter™ is the first pre-workout product to address all the factors that lead to an excellent workout, from increasing motivation to improving focus and mood, and boosting power, energy and endurance.
"Motivation is the main limiting factor for anyone trying to make improvements in the gym. With motivation anything is possible." states Tom Richardson, Top Secret Nutrition's CEO. "So we focused our efforts in creating a pre-workout supplement that not only primes and supports the body for higher workout performance, but that stimulates and helps sustain motivation before and throughout the workout."
Pump Igniter™ is the first supplement to contain the landmark new beta-alaine, HydroCarn™ Beta-alanine HCL. Beta-alanine is an amino acid that promotes muscular energy. HydroCarn™ is the next generation of this key amino acid with three times the solubility of Carnosyn Beta-alanine. HydroCarn™ is rapidly absorbed and used by the body to increase lean body mass, increase muscle carnosine levels, increase muscle buffering, decrease acidosis, improve endurance, delay fatigue, and increase strength and performance.
Pump Igniter™ includes many other top quality ingredients, amongst these Astravar™. Top Secret Nutrition™ introduced Astravar™ to the market two years ago. Since then Astravar™ has become a favorite for anyone looking to maximize vascularity during weight training. Astravar™ is known for improving the body's ability to absorb nutrients, but it is also known for its ability to increase ENOS (endothelial nitric oxide synthase) and lead to incredible gym performance and "muscle pump."
Top Secret Nutrition™ is in the process of releasing Pump Igniter™ through its extensive distribution channels. The company plans to make Pump Igniter™ the center-piece of its booth at the Olympia Show in Las Vegas later this year. Those who start taking it now will enjoy a competitive advantage in the gym, after the Olympia Show they be following a trend, and a large trend it will be.
About Top Secret Nutrition:
Top Secret Nutrition is a developer and marketer of high-quality nutritional supplements with the purpose of "Fueling Active Life Styles 24/7" and is considered a leader in sports nutrition, general heath and weight management supplementation. The company currently has over 50 products spanning across the three supplementation segments. These products are widely available in the United States at some of the most relevant retailers such as Bodybuilding.com, GNC, Vitamin Shoppe, and Vitamin World. Europa Sports, Select Nutrition Distributors, and the Chiropractor's Buying Group also distribute the products to a wide network of retailers. Top Secret Nutrition's products are increasingly available in international markets.
Top Secret Nutrition is based in Miramar, Florida. All of its products are manufactured in the United States using Good Manufacturer Practices (GMP) certified labs. For more information or to schedule an interview, please contact Tom Richardson at (954) 496-9600 or tom(at)topsecretnutrition(dot)com.