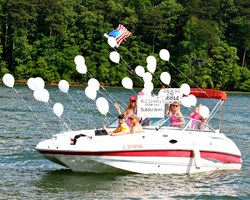 Greenville South Carolina Significant Events
Greenville, South Carolina (PRWEB) June 26, 2013
Not too close, not too far, The Reserve at Lake Keowee's location is just right for boat loads of fun. Just about every type of water sport takes place on this beautiful emerald green lake surrounded by lakefront homes. But when the sun sets, resident's can quickly scoot off for culturally rich experiences in nearby Greenville SC. Approximately 35 minutes from this Western South Carolina lake and golf community, this redeveloped city is carving a name for itself as it elevates art and artistic endeavors to an impressive new level. In fact, Greenville SC was named of the 100 Best Art Towns in America by John Villani back in 2009. Sporting events, festivals and foodie events add priceless value to an exciting life in the foothills of the Blue Ridge Mountains. Here's a lineup of upcoming downtown Greenville SC summer events:
WELLS FARGO RED, WHITE AND BLUE FESTIVAL - July 4th 2013
Whether you're lucky enough to watch the fireworks from the Great Lawn at The Reserve at Lake Keowee or are visiting downtown Greenville SC, the holidays are a great excuse for family festivities. Wells Fargo Red, White & Blue July 4th celebration showcases one of the largest fireworks displays in the state of South Carolina. Put on your best red, white, and blue and head downtown for the birthday festivities which include live music on two stages and good old fashioned American cuisine.
UPSTATE SHAKESPEARE FESTIVAL - May through August 2013
For each of the last eleven summers, the Upstate Shakespeare Festival has taken place at the Falls Park Amphitheater. The productions are free and presented by the Warehouse Theatre which exemplifies the best in regional talent. Set in the stunning Falls Park, everyone is welcome to bring picnics, blankets, and lawn chairs for an evening with Shakespeare under the stars.
ART IN THE PARK - September 28-29, 2013
This year marks Art in the Park's 19th year and is something avid art lovers look forward to in Greenville SC. This art festival is a weekend celebration attracting thousands of visitors to the city. There are over 200 original works of art with innumerable exhibits and demonstrations. This creatively inspiring festival will be held downtown in late September. It's a great way to bring in the autumn season and do some early holiday shopping in this best art town of South Carolina.
EUPHORIA - September 26-29, 2013
In conjunction with Art in the Park, Euphoria is held the same week attracting foodies to the city. This festival is the brainchild of Edwin McCain,a popular singer/songwriter, and Carl Sobocinski, a popular restaurateur in the area. This scrumptious event set in the foothills of the Blue Ridge Mountains is cultivated to "bring the best of food, wine, and music to Greenville SC." During this four day event, there are tasting events, cooking demonstrations, and wine seminars. Live music and multi-course dinners are also part of the Euphoria experience. The event showcases wines from around the world, celebrity chefs, master sommeliers, as well as nationally recognized recording artists. All proceeds from the event go to support local charities. Euphoria is destined to whet your appetite.
Looking for more to do in Greenville SC?
Every Wednesday from May to September, the Classic Movie Series takes place in Falls Park.
Wednesdays from June through August, the Reedy River Concerts take place at the TD Stage at the Peace Center. Feel free to bring picnics, blankets, and lawn chairs to each of these.
Every week from March through September, Main Street Fridays takes place at the Hyatt Regency Plaza. Lots of music and dancing in a variety of genres is enjoyed for free and is a great way to end a work week.
On Thursdays from March through August, Downtown Alive, also at the Hyatt Regency Plaza, can only be described as a weekly street party with fun and camaraderie for everyone.
Fall for Greenville takes place every October with food, sights, and sounds that enhance the crisp, cool nature of Autumn.
Living near an exciting city is an important attribute to consider when choosing the right gated community in the Blue Ridge Mountains.
Not too close, not too far, The Reserve at Lake Keowee offers a winning combination when it comes to enjoying a high quality of life in Western South Carolina.
About Real Estate Scorecard:
Real Estate Scorecard writes unbiased real estate reviews providing in-depth information about popular gated communities in Florida, Georgia, North Carolina, South Carolina and Tennessee, all in an effort to help people discover where to retire in the Southeast.
Website: http://realestatescorecard.com