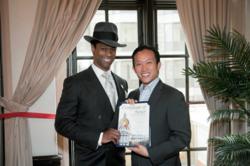 San Francisco, CA (PRWEB) June 28, 2013
In 2012, San Francisco Lodge No. 3 of the Benevolent and Protective Order of Elks were able to begin the reconstruction of the terra cotta balustrade that originally adorned the front of their spectacular 1920s Spanish Gothic building in historic Union Square. Sunday's celebration was culmination of many years of effort.
The President of the Lodge, Nasir Shakour, oversaw the ceremony stating: "It is thrilling for me, as a long time member of the Elks, to see the support of Supervisor Chiu and our city supervisors. Our mission is to support our community through charitable works; and I look forward to more opportunities to partner with our City and State Representatives." He then introduced City Supervisor David Chiu. Supervisor Chiu expressed his appreciation for all the Elks do in San Francisco and for maintaining the historic heritage of the area.
Supervisor Chiu then presented the San Francisco Elks with a Certificate of Honor, signed by the Board of Supervisors: "In recognition of your association's unwavering dedication to charitable work, for being the longest continually running lodge, for your continuing efforts to preserve the historic building, and for your historically accurate balcony reconstruction."
The celebration was also attended by State Senator Mark Leno who extended congratulations to the Elks Lodge and noted the long history of charitable works done by the Elks in San Francisco.
The current Elks' building was commissioned in the early 1920s. The Elks commissioned the architects F.H. Meyer—one of the designers of San Francisco's City Hall—and A.R. Johnson to design their new home at 450 Post Street. Their 15-story terra cotta-clad creation opened in 1925. Originally, an elaborate terra cotta balcony balustrade graced the exterior at the third floor. Unfortunately, by the 1960s, the balustrade had deteriorated and was deemed a falling hazard, and was subsequently replaced with an unglamorous steel railing extending about five feet from the building.
Consideration of the historic and architectural pedigree of 450 Post Street, as well as its position in the commercial heart of San Francisco, were a critical to the San Francisco Elks when selecting ARG Conservation Services to restore an original element of the historic structure. David Wessel, a Principal of ARG Conservation Services, was also present at the celebration: 'It has been a pleasure to collaborate with the Elks Lodge. This project restores the crowning element of a significant downtown historic building, the visual symbol of an organization that represents the best in public service and philanthropy.'"
The Elks share their building with several businesses, including the SF Playhouse who provided open tours of the theater during the celebration. Proceeds from Sunday's event benefited scholarships for high school seniors in San Francisco.