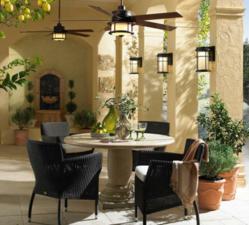 Los Angeles, California (PRWEB) June 27, 2013
With school out of session and summer officially here, now is the time for summer outdoor living. In light of the season, Manja Swanson, Chief Creative Officer at Lamps Plus, the nation's largest lighting specialty retailer, offers ten tips for getting outside in style. Starting with outdoor lighting and diving into the finer points of outdoor decor, Swanson's list reflects a progression in customer behavior and an evolution the outdoor decor industry has seen over the years.
"With a spate of new technologies and weatherproof materials and finishes, outdoor furniture and decor has seen an evolution in recent years, from solar LED lighting to all weather rugs and cushions," explains Swanson. "This has made it possible to transform the back yard into a second living room. And we've seen a lot of interest in these new outdoor designs from customers."
The following are Swanson's quick tips for outdoor living:
1. Light the Scene. "When creating your outdoor space, begin with lighting," explains Swanson. Landscape lighting improves safety as it makes your back yard easier to navigate after dark, but it adds beauty and a sense of depth to your garden too." LED solar path lights are a particularly energy efficient way to install lighting and require little to no skill to install.
2. Take a Seat. "I prefer a classic outdoor seating, such as an Adirondack style chair," explains Swanson. Arranging chairs in a radial pattern around a pool or fire pit promotes conversation.
3. Add an Ottoman. The ultimate multi-tasking decor element, ottomans can be used as footrests and coffee tables. Storage ottomans are perfect for stowing candles, tabletop accessories or garden tools.
4. Choose Color. "With neutral colors all around in nature, choose colorful elements to brighten your outdoor decor," says Swanson. "A bright red painted chair or colorful accent pillows can work wonders outside."
5. Join the Fan Club. "Ceiling fans aren't just for the indoors," explains Swanson. "Fans that are UL listed for damp locations can provide a burst of cool air in covered patios and sun porches. Wet rated ceiling fans can actually be exposed directly to the elements and are excellent for extra muggy climates."
6. Cue the Strings. "For festive occasions, I love string lights. They're much like Christmas lights, but with a range of playful diffusers, from grapes to mini paper lanterns, they're a fun accompaniment to any get-together."
7. Hang a Lantern. "If string lights are too whimsical for your outdoor fiesta, try a candle lantern. In beautiful enamel frames, these are an attractive and safe way to bring candle light to the outdoors," says Swanson. With handles and feet, lanterns can be hung or set down along walkways or stairways for a romantic candlelit touch.
8. Go with the Flow. "Fountains add a sense of cool and calm to interior and exterior spaces," explains Swanson. Many fountains feature LED lights and solar powered operation, allowing them to be placed anywhere in the yard where sunlight exists.
9. Rugs. "I love the mixture of materials and textures that you find outdoors," says Swanson. "When decorating outside, rugs are a great way to complement this mix. Fade resistant and anti-microbial rugs are built to withstand the added pressure of sun and rain."
10. Cozy Up with Pillows. Outdoor pillows are a great way to add color and comfort to an outdoor living room. "A collection of outdoor accent pillows adds a dash of style. Guests will love the comfortable touch."
Adding outdoor lighting and decor can really make a difference in creating a memorable yard and patio. Lastly, Swanson suggests a few finishing touches: "Just as in a room, it's the little things that really give an outdoor space personality. A casual stack of river rocks, a weathered stone sculpture, or a cluster of pillar candles on the table brings the inside out and really makes outdoor living truly livable."
About Lamps Plus
For more than 30 years, Lamps Plus has been synonymous with excellence in the retail lighting industry. Established in 1976, Lamps Plus is the nation's largest specialty lighting store, with more than 40 superstores throughout the western United States. In 2013, LampsPlus.com was named a Top 10 Housewares/Home Furnishings e-tailer and a "Hot 100" world's best retail website by Internet Retailer Magazine. Together with its retail locations, Lamps Plus serves customers nationwide with the largest selection of functional and decorative lighting fixtures, accessories, furniture and home decor. This selection includes hundreds of products, ranging from traditional chandeliers and pendant light fixtures to the latest in home decor, available exclusively from Lamps Plus. Services include in-home lighting consultations, in-store workshops and installation from expert, licensed electricians. American Lighting Association certified designers are available to offer product recommendations and advice in all our stores, by phone or online at LampsPlus.com. The Lamps Plus family of websites also includes 55 Downing Street, Lighting Luxury Style, Builders Discount Lighting, and Lamps Plus Open Box. Visit the official Lamps Plus website: LampsPlus.com