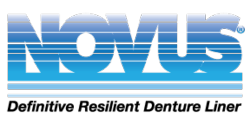 Lang Dental's NOVUS, soft denture liner, enhances what a new denture wearer should feel through comfort and fit.
Wheeling, IL (PRWEB) June 27, 2013
Introducing NOVUS®, the ultimate resilient denture liner, longer lasting in comfort and functional fit compared to soft liners currently available. Lang Dental has been manufacturing dental acrylics for over 80 years, trusted by dentists worldwide. Now, Lang Dental has extended the product line catering to patient needs with new and existing dentures.
For The Patient
For most dental patients, the hard denture surface rubs against underlying tissues that cause sore spots resulting in difficult-to-wear dentures. Lang Dental's NOVUS, soft denture liner, enhances what a new denture wearer should feel through comfort and fit. Denture wearers can now enjoy less bounce back, less pop-offs, greater control while chewing (eating foods that were difficult without NOVUS) and increase overall denture fit and performance. With NOVUS denture liner, dentures have extended life, are easy to clean and exceed expectations when decreasing known problems with denture wearers.
For Dental Professionals
NOVUS® develops a stronger relationship between the dentist and patient, enhancing greater patient care by providing a solution to common problem areas, such as, fungal growth, flat ridge and deep anatomical undercuts. NOVUS has low water absorption, resists fungal growth and engages undercuts for added retention than a hard denture. Adjustments can be made chairside with typical dental tools and equipment­—decreasing the time spent in the chair. Other uses, overdenture and implant-retained denture.
Visit novusdentureliner.com for more information regarding this innovative soft denture liner.
Lang Dental Manufacturing Co. was founded in 1929 by Samuel Lang providing dental materials of the day to dental professionals. Since 1958, Lang Dental continues to develop, manufacture and distribute to dental professionals globally, trusted acrylics used to fabricate tooth-colored self-curing acrylics, denture base acrylics and supporting equipment. Trusted by clinicians and technicians worldwide, Jet and Lang brand products are known for their excellence and consistent performance.