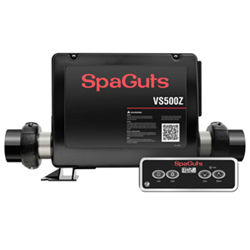 Anaheim, CA (PRWEB) June 27, 2013
SpaGuts.com is pleased to announce the addition of several new spa controllers for portable spas and hot tubs in the retrofit market. The company's latest line includes the SpaGuts brand VS Series spa controller models such as the VS500Z, VS501Z and VS510SZ, all of which are powered by Balboa Water Group. Each and every SpaGuts brand spa controller powered by Balboa Water Group is backed by a 2-year warranty; however, customers has the option to upgrade to a 3-year warranty.
The new spa controllers offered at SpaGuts.com include larger, more reliable and easier to read topsides instead of the standard entry-level topsides. The SpaGuts branded products provide the customer with a better value and longer warranty than any other competing brand on the market.
The VS Series spa controllers are available factory-configured to the customer's exact specifications, or as a retrofit kit that is easily field-configured at the time of installation. This is a unique feature that's only available through SpaGuts.com. Competitors offer controllers only as a retrofit do-it-yourself kit without the time-saving factory configuration options available by SpaGuts. Factory configuration includes setup and bench testing of internal component circuits to work with the customer's existing pump, blower and ozone. Opting for SpaGuts factory configuration means customers aren't forced to modify any internal wiring, which is a huge benefit.
Factory configuration offered on SpaGut.com products save time and help to prevent costly installation errors. The SpaGuts VS Series spa controllers come with built-in QR codes on the controller cover for quick access to the wiring diagram, operation instructions, installation instructions and even technical information about the specific spa controller model. These QR codes can be scanned using a basic smart phone. Android, Apple and Windows smart phones all have free apps designed to read QR codes. Once the code is scanned, a web address will appear with all of the previously mentioned information regarding the spa controller. All that's required is a QR code reader and active internet connection.
SpaGut.com is located in the heart of Anaheim, CA where they've produced the world's finest spa controllers and parts for over 20 years. "When you buy a spa pack or controller from Spa Guts, expect the best quality spa equipment and attention to detail that others don't even consider. Why? Because at Spa Guts we don't just sell packs, we build them," said owner and CEO Mike Whitney. It's that type of headstrong attitude towards building only the finest spa controllers and equipment that has led SpaGuts down such a successful path.
The VS Series spa controllers operate on 110/220V 60Hz (220V requires 4-wire service) and are equipped with Balboa Water Group's patented M7 technology which allows the heater to be mounted on either the suction or discharge side of the pump for simplified installation. M7 Technology also completely eliminates the pressure switch that would otherwise require an occasional manual adjustment.
SpaGuts remains a leading manufacturer and supplier of spa controllers. Their latest line, the VS series, is a game-changing product that's loaded with helpful features. Their factory configurations, built-in QR codes and exceptional customer service are just a few of the reasons why so many people choose SpaGuts.