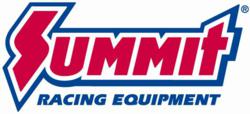 Tallamdge. OH (PRWEB) June 27, 2013
Summit Racing now carries a complete line of Maradyne electric fans for high performance, racing, towing, and off-road use.
Maradyne electric fans feature 100% glass-filled nylon blades and shrouds; concentric rings surround the blades to keep them at proper pitch for maximum cooling. Most Maradyne fans have sealed electric motors that are dust- and water-proof, making them ideal for off-road use. All Maradyne fans are factory-balanced for smooth running and longer motor life, and are flow-tested in Maradyne's in-house air chamber to make sure each fan flows as advertised.
CHAMPION SERIES FANS
These versatile fans have an S-blade design to move air more efficiently. They are available in diameters from 6.5 to 16 inches, and airflow ratings from 349 cfm to a whopping 2,170 cfm. Most can be configured as either pusher or puller fans.
MACH TWO SERIES FANS
Designed for trucks and tow vehicles, these fans feature dual 11 inch diameter, 5-blade fans that put out over 2,760 cfm of airflow. Dual wiring harnesses for easier installation are included.
MACH ONE SERIES FANS
These 16 inch diameter fans are ideal for light trucks with underhood space constraints. They put out 2,160 cfm of airflow and have a quiet, reversible 225 W motor, so they can be used as a puller or pusher.
JETSTEME FANS
Jetstreme electric fans have a low profile design for use with turbo or supercharger installations. The fans use an S-blade design for quieter operation and have a rubber seal that eliminates vibration contact and increases airflow. The fans are available in single and dual-fan styles rated from 1,155 to 3,130 cfm.
CHALLENGER SERIES FANS
The affordable Challenger series fans feature a quiet, reversible motor, so they can be used as a puller or pusher. They have a glass-filled nylon shroud and blades, and are high-temperature and impact-resistant. The fans include four 90 degree mounting feet and a nylon tie mounting kit.
PRODUCT LINK
http://www.summitracing.com/search/brand/maradyne-high-performance-fans?keyword=Maradyne
Summit Racing Equipment
http://www.SummitRacing.com
1-800-230-3030