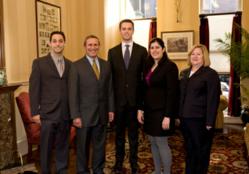 (PRWEB) June 28, 2013
The Law Firm of Pozzuolo Rodden, P.C., Philadelphia Business Attorneys, announces the upcoming live or via webcast seminar titled: The Fundamentals of Starting a Business Including Ethics on:
Wednesday, July 10, 2013.
Where: FurtherEd/LawLine.com
61 Broadway, Suite 1105
New York, NY 10006
5:00p - 5:30p Registration, check-in
5:30p - Course instruction
Please note: All classes begin promptly!
The Fundamentals of Starting a Business Including Ethics
This seminar begins with the start-up of the closely-held business including the selection of the business entity from sole proprietorships, limited liability companies, limited partnerships to "S" corporations, the actual formation of the business entity, and will review many of the daily important, practical issues facing owners such as financing, operational planning, acquisitions, sale, merger or consolidation of the business, employment issues, succession planning and the ethical issues practitioners should be aware of.
If you would like to read more of what the seminar will cover, please read the full description on Pozzuolo Rodden's web site under Seminars: http://www.pozzuolo.com
Pozzuolo Rodden, P.C. provides specialized cost-effective legal services to privately held business owners and high-net-worth clients in Pennsylvania and New Jersey in excess of 35 years.
Practice Areas:
Business planning and transaction, complex business litigation, commercial real estate and development, construction law and litigation, advanced estate planning and administration, tax and pension law, high profile and intricate family litigation, and employment law and litigation.
Pozzuolo Rodden, P.C.
Counselors at Law
2033 Walnut Street
Philadelphia, PA 19103
215-977-8200
http://www.pozzuolo.com