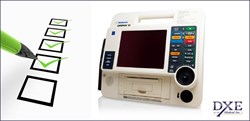 We want your business, but most importantly we want to ensure your AED or defibrillator purchasing experience is flawless from ordering and shipping to maintenance and follow up
Brentwood, TN (PRWEB) June 27, 2013
Every consumer wants to feel good about the products they purchase and the company they purchase them from. Reputation, quality, and customer service are all important factors in the buying process. These qualities should be especially valued when making a long term investment in an AED or manual defibrillator.
1. Do you offer a loaner program?
2. Do you have biomedical technicians on the premises? How were they trained?
3. How large is their inventory? Can you see a current picture of that inventory?
4. Do they carry liability insurance? Will they send you a copy of their policy?
5. Have you dealt with this company before? Are they going to honor their warranty?
6. Are they a licensed distributor of all major brands?
7. What accessories are you receiving? What kind of training and management programs can you expect?
The answers to how DXE Medical, Inc. handles these issues can be found on the DXE blog. DXE Medical, Inc. has built their reputation over the past 14 years with excellent customer service and top notch products. Moriah Lutz-Tveite, Marketing Production Coordinator at DXE states, "We want your business, but most importantly we want to ensure your AED or defibrillator purchasing experience is flawless from ordering and shipping to maintenance and follow up."
DXE Medical Inc., a Sarnova company, was founded in 1999. It provides new and refurbished defibrillators, AEDs, EKGs, as well as other medical equipment and has grown to serve customers in all 50 states and 40 countries worldwide. For more information, please visit: http://www.dxemed.com/.