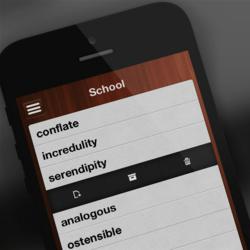 Definest is the learn-it-later word journal app for quickly expanding your vocabulary.
Boulder, CO (PRWEB) June 27, 2013
Ever read or heard a new word, looked up the definition, and forgotten it the next day? Definest solves this by keeping all the words in one convenient place, with one-tap dictionary access — always on the iPhone.
With Definest:

Create multiple word lists (e.g. vocabulary quiz, personal, work)
Tap a word to access the built-in New Oxford American Dictionary 
Swipe a word to add a note with hints or example sentences to reinforce the meaning
Simply delete or archive a word once you've mastered it
Definest is available now on the App Store and runs on any iPhone with iOS 6.0 or later. FREE for 24 hours!
More info: http://definest.co