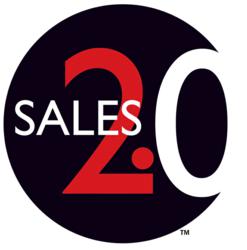 Buyer behavior has completely disrupted the traditional sales process.
Santa Cruz, CA (PRWEB) June 26, 2013
Today organizers of the Sales 2.0 Conference announced that speakers at its upcoming Boston event on July 15 will address growing concerns that B2B companies are not well positioned to meet the needs and expectations of today's B2B buyer.
Conference producers point to a recent study by digital marketing company, Acquity Group, which indicates that many companies are falling behind when it comes to meeting buyer expectations. Findings from the 2013 State of B2B Procurement Study, which surveyed corporate buyers with annual budgets of $100,000 or more on their purchasing habits and preferences, reveal that the upcoming generation of B2B buyers is "highly connected" and that they expect "an easy-to-use and highly-targeted online experience." Initial reports suggest that many B2B suppliers are unprepared to meet these demands. 
At the Boston Sales 2.0 Conference on July 15, Gerhard Gschwandtner, Founder & CEO of Selling Power, will moderate a discussion between Anthony Iannarino, Managing Director of B2B Sales Coach & Consultancy and Matt Bertuzzi, Marketing & Operations of The Bridge Group, in a presentation titled "The New Sales Reality."
"Buyer behavior today has completely disrupted the traditional sales process," Gschwandtner says. "Prospects today read your blog, download white papers, check out your company on LinkedIn, or attend your Webinars, all before they talk with you. Sellers need to be prepared to have meaningful conversations by the time that connection actually happens."
In a recent video interview, Anthony Iannarino highlighted a related need: sellers today must understand a customer's business enough to be able to demonstrate value. In other words, buyers are expecting sales teams to help them achieve clear, measurable results. "If you don't understand how their business works and general business principles, it's very hard to have a business conversation," says Iannarino.
Salespeople also need what he calls "situational knowledge," which can only be learned over time.
"At some point you start to intuit things [when selling]," he says. "You have the insight and experience to draw on and say, 'I've seen something that looks like this before.'" Iannarino says that reps need time to cultivate this kind of experience. "It's not easy for salespeople. It takes time, it takes coaching, and it takes going on sales calls with others."
During the panel discussion at the Boston Sales 2.0 Conference, attendees will learn about the trends they need to monitor today to ensure success in the future. In particular, the panel will share:
1. Ways to help reps have more relevant interactions with prospects
2. How sales leaders can more effectively manage and motivate the sales team
3. Tools that help reps stay one step ahead of prospects (and the competition)
4. How to enable reps to communicate with prospects in a way that moves deals forward
All conference registrants, including media attendees, will receive access to these bonus materials after the event:

2013 Sales Management Optimization: Key Trends & Analysis (CSO Insights Report)
The Sales 2.0 Impact Report (2013)
2013 Sales Leadership Priorities Report (Frost & Sullivan)
Complimentary white papers on sales, marketing, and management effectiveness
Select presentations/slides from speakers
More Info
@Sales20Conf #s20c
Sales 2.0 Conference
The Sales 2.0 Conference showcases leadership strategies and SaaS technologies that help B2B sales and marketing leaders create more competitive teams and drive higher profits. Attendees learn how to achieve measurable success in such areas as CRM use, sales and marketing collaboration, lead generation and pipeline management, social media for sales and marketing, analytics and metrics management, customer engagement, sales transformation and change leadership, and sales process improvement. Visit http://www.sales20conf.com to find upcoming events.