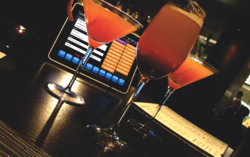 Las Vegas, NV (PRWEB) June 27, 2013
Next Gen Dine by Prelag Partners LLC is currently revolutionizing restaurants with their unique tablet point of sale system around the world. Installed in several restaurants in Nevada, Arizona, New York, California, Louisiana, Texas, Virginia, North Carolina, and Australia, Next Gen Dine offers restaurants maximum staff efficiency and even helps increase profits.
Arousing the senses of tech savvy restaurant goers, Next Gen Dine offers customers a unique and enhanced dining experience. If a customer wants to know what a certain menu item looks like, the server can show them high definition images of the items directly through the Next Gen Dine tablet. The mobility offered by Next Gen Dine allows orders and payments to be taken at tables inside and outside the restaurant.
Next Gen Dine is currently available on the Apple iPad and iPad mini, but will be soon available on Android and Windows Surface devices.
Next Gen Dine system is the first of its kind in the mobile restaurant point of sale market and the future of restaurant dining. For more information, please contact Paul Roberts by phone at 1-877-342-2218 or email at paul(at)nextgendine(dot)com.
Next Gen Dine is a cloud-based, mobile restaurant point of sale software designed for the iPad. Restaurant owners can now capitalize on the benefits of a full-featured POS system for a fraction of the cost of a traditional POS. Due to the mobility offered by the software, employees can take orders directly at the table, take credit card payments at the customer's side, and drastically improve restaurant operating efficiency. Orders placed are sent directly to the appropriate prep station, therefore decreasing order turnaround time. Next Gen Dine also offers restaurant owners customer loyalty, gift card, social media, and fine-grained marketing tools.