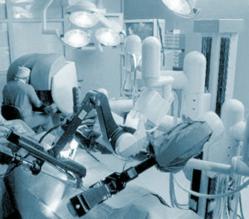 offer free DaVinci robot lawsuit evaluations to those who have sustained serious injuries that could be linked to undergoing Da Vinci robot surgery. To discuss a potential DaVinci robot lawsuit claim call 1-800-403-6191 or visit www.FightForVictims.com
New York, NY (PRWEB) June 26, 2013
The FDA has recently sent a "483" letter to Intuitive Surgical, the make of the Da Vinci Robotic Surgical System, informing the company that it may have failed to abide by federal regulations when, in October 2011, the company sent out letters to its customers without first notifying the FDA regarding the Da Vinci robot reports CNBC.com. FDA 483 letters are intended to notify companies like Intuitive Surgical of potential violations of federal regulations they may have committed, and these FDA letters allow companies the chance to rebut any alleged violations before a final determination is made.
[cnbc.com/id/100843549 June 25]
According to CNBC.com, the letters that Intuitive Surgical had sent to hospitals and surgeons throughout the U.S. offered suggestions and recommendations for using Da Vinci robot for surgical procedures, particularly when it came to dealing with the complication of "arcing" of the device's tip cover. Arcing is a possible Da Vinci robotic surgery complication that takes place when an electrical current jumps from the tip of the device into a patient during surgery, possibly causing serious injury to the patient.
[cnbc.com/id/100843549 June 25]
In response to the FDA's 483 letter, Intuitive Surgical has stated that the letters it sent to customers in October 2011 simply reiterated labeling directions associated with Da Vinci robots. As a result, Intuitive Surgical says that the company documented the letters as "a non-reportable field action" with the FDA because the letters did not require a labeling change to the existing, FDA-approved Da Vinci robot labels. The FDA is currently reviewing Intuitive Surgical's response and has yet to make a final ruling on whether the company did, in fact, violate federal regulations.
[cnbc.com/id/100843549 June 25]
Filing A Da Vinci Robot Lawsuit If You've Been Injured
Alonso Krangle's dedicated product liability attorneys are dedicated to standing up for victims' rights and holding even the largest corporations accountable for their potentially dangerous devices. We offer free DaVinci robot lawsuit evaluations to those who have sustained serious injuries that could be linked to undergoing Da Vinci robot surgery. To discuss a potential DaVinci robot lawsuit claim with one of the compassionate Da Vinci robot surgery lawyers at Alonso Krangle LLP, please contact us at 1-800-403-6191 or visit our website, FightForVictims.com
FDA Probe of Da Vinci Robot Surgical Complications
Intuitive Surgical has been the target of various FDA actions in 2013, with the recent controversy over whether Intuitive Surgical violated federal regulations when sending letters to consumers in October 2011 being the latest run in with federal regulators. Prior to this, in March 2013, the FDA announced that it would be conducting a national investigation into the causes of a recent spike in the number of reports of Da Vinci robot surgery complications the agency has received. Since January 2012, the FDA has received reports of at least five patient deaths allegedly linked to Da Vinci robot complications, and the FDA's database indicates that about 500 new reports have been filed by Intuitive Surgical alone. Whether the surge reported Da Vinci complications is "a true reflection of problems" with these devices or whether it is due to other issues is the main focus of the FDA's ongoing investigation, according to Synim Rivers, an FDA spokeswoman. "It is difficult to know why the reports have increased," she stated.
[bloomberg.com/news/2013-02-28/intuitive-surgical-robots-probed-by-u-s-in-survey-of-surgeons.html March 2013]
[rockcenter.nbcnews.com/_news/2013/06/14/18958967-robotic-surgery-is-high-tech-tour-de-force-but-is-it-safe?lite June 2013]
About Alonso Krangle LLP And Filing A Da Vinci Robot Lawsuit
Andres Alonso and David Krangle, attorneys with almost 40 years of collective legal experience, have focused their law practice on handling significant personal injury cases, defective drug and medical device litigation, construction site accidents, nursing home abuse, medical negligence, qui tam/whistleblower actions and consumer fraud cases. Alonso Krangle LLP is headquartered in Long Island, New York, with offices in New York City, and New Jersey.
For more information about Alonso Krangle or to join the fight and be a part of our team, please contact us at 1-800-403-6191 or visit our website, FightForVictims.com.