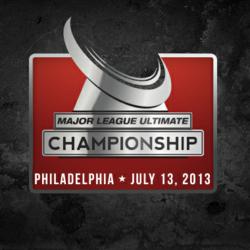 Philadelphia, PA (PRWEB) June 27, 2013
The inaugural Major League Ultimate Championship Game will take place at Franklin Field in Philadelphia on July 13, 2013.
After an exciting regular season, the MLU will pit the Conference Champions from the east and west coasts against one another in a showcase of Ultimate Frisbee at its highest level on the biggest stage fans have ever seen.
"We have had an incredible inaugural season this year, complete with crazy fans, huge plays and fantastic competition," Jeff Snader, Commissioner of Major League Ultimate, said. "We have seen our league featured on ESPN's SportsCenter eight times. We have seen it draw a rating on Comcast. We have been there as new people discovered this amazing sport and the athletes who play it. Now it's time for the big event that celebrates everything that's happened in this inspiring season. This Championship will be a game to remember."
Located right in the heart of University City, Franklin Field has held the Penn Relays Carnival, the largest track and field event in the country, for over 100 years and was home to the Philadelphia Eagles from 1958-1970. Now the MLU will make its mark on the historic field.
The game, scheduled for 6 pm on Saturday, July 13th, will be the centerpiece of a busy weekend. Ticket holders will also have several other events they can attend.
A clinic, open to ticket holders between ages 5 and 18, will be run by MLU players at Franklin Field prior to the game, and there will be a tailgate event at City Tap House, offering specials and prizes to those going to the game. According to league officials, even more fun is in the works.
"This isn't just a Championship Game, it's a Championship Weekend," Nic Darling, Executive VP of the MLU, said. "We want people to have an opportunity to learn about the sport, to meet the people involved with it and to see the best in the world compete. We also want everyone to have fun. So we are putting together events and activities around the game to appeal to people of all ages. This will be a great time to share with family and friends."
Tickets for the Championship Game are on sale now at http://www.MajorLeagueUltimate.com. General Admission is $15 with children 5 and under welcome to come for free. Family packages are also available, including the Family Four Pack which includes four tickets for the price of three.
"We are excited to bring an event like this to our league's hometown of Philadelphia," says Darling. "This is a great sports city and we have a great sport for this city to get behind."
Major League Ultimate is a national, professional Ultimate Frisbee league with teams in Boston, New York, Philadelphia, Washington DC, Seattle, Portland, San Francisco and Vancouver. The MLU is based in Philadelphia, PA and was founded in 2012.
For more information contact nic.darling(at)mlultimate(dot)com.