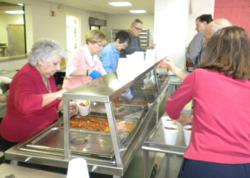 Paterson, New Jersey (PRWEB) June 27, 2013
Eva's Village (http://www.EvasVillage.org) will honor Our Lady of Mount Carmel Church, Ridgewood, for its 31 years of dedicated service to Eva's Village, the most comprehensive charitable organization serving New Jersey's poor.
For thirty-one years Eva's Village has been providing everything from free meals to New Jersey's hungry, shelter to New Jersey's homeless, intensive inpatient treatment for New Jersey's addicted and free medical and dental care to New Jersey's uninsured. As the country continues to recover from the recent recession, programs at Eva's Village continue to see an increase in demand for their services. Eva's Kitchen, one of New Jersey's largest soup kitchens, enlarged its dining area in 2011 from 240 seats to 400 to accommodate the increased demand. Over the past three years, Eva's Village has opened a 50 unit complex of safe, beautiful and affordable housing, expanded its kitchen program and opened a new and expanded primary care clinic.
Donna Marie Fico, Director of Marketing and Education at Eva's Village, notes that the 2013 Benefit Gala for Eva's Village is subtitled "Visions of Hope". "Over the past 31 years, Eva's successes have been many," states Ms. Fico. "We are so pleased to recognize the many years of service that Our Lady of Mount Carmel has given to Eva's Village. Their passion to help the poor through their volunteer efforts shows how God's work is done through his own people. It is through the many hours that volunteers put in at Eva's that we are able to change the lives of many." Each year, the Eva's Village Annual Benefit Gala provides a critical funding source to the many programs that make Eva's Village so critical to those in need, and each year it identifies additional needs for those in its community.
"I am humbled by the goodness of so many people who have worked with us over the past 31 years, to feed the hungry, shelter the homeless, treat the addicted and provide free medical and dental care to the poor," states Marie Reger, Executive Director. "I would like to thank Rev. Msgr. Ronald J. Rozniak, Pastor at Our Lady of Mount Carmel, and the team of weekend volunteers who have been coming faithfully every other month to cook and serve the noon meal in our kitchen for over 31 years, especially Ray and Terry Myer.
For more information on the "Visions of Hope" Gala Dinner (November 7, 2013), honoring Our Lady of Mount Carmel, contact: Joey Mazza, Special Events Coordinator – Phone: (973) 523-6220 Ext. 235 Fax (973) 825-7297. The Eva's Village Annual Benefit Gala will be held at The Grove, Cedar Grove, New Jersey.
Eva's Village consistently receives high marks for efficiency, including a seventh consecutive Four-Star rating by Charity Navigator, indicating that Eva's Village "Exceeds industry standards and outperforms most charities in America" (Charity Navigator).
To donate to this NJ Charity, or for more information about Eva's Village, call (973)-523-6220, go to http://www.evasvillage.org or write to: Donna Fico, Director of Marketing & Education, Eva's Village, 393 Main Street, Paterson, NJ, 07501.