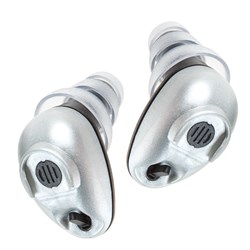 The BEAN - a direct-to-consumer personal sound amplifier, available without a prescription, which allows for better hearing in difficult conditions.
New York, NY (PRWEB) June 26, 2013
Your family's hearing matters. At CE Week in New York, Etymotic Research is debuting the BEAN - a direct-to-consumer personal sound amplifier, available without a prescription, which allows for better hearing in difficult conditions. The company will also demonstrate its Home Hearing Test™ – the only at-home test on the market today that uses precision calibrated earphones to provide a test that is equivalent to one performed by a hearing professional.
In addition, Dr. Cynthia Compton-Conley, Etymotic's Director of Hearing Wellness, will present on a panel, entitled "Digital Health Takes New York" on June 26, as part of the Digital Health Summit at CE week.
Etymotic will also be showing ETY·Kids safe-listening earphones, which are now available in pink and yellow, as well as black. ETY·Kids earphones, designed for children aged 4+, are engineered to keep sound at safe levels and protect a child's hearing, so parents can rest easy.
The BEAN
The BEAN personal sound amplifier enhances soft sounds but does not amplify loud sounds. With the BEAN, soft speech can be heard more easily in a house of worship, classroom, courtroom, lecture hall, theatre, or from TV, and users can choose to use it like reading glasses: only when needed.
The BEAN is available in three color finishes – platinum, brushed gold and bronze – and is available for purchase online at the introductory price of $375 each or $700 per pair. The BEAN will be worn on the runway at FashionWare: Where High Tech Meets High Fashion, taking place June 26 at CE Week.
Home Hearing Test
Unlike questionnaires and other screening tests, Etymotic's Home Hearing Test is the same type of test administered by hearing professionals. The Home Hearing Test determines when hearing should be checked by a licensed hearing professional, and provides consumers with the information they need to take control of their hearing health.
The Home Hearing Test was developed by audiologists and comes with everything consumers need to conduct an accurate test, including calibrated earphones, a matched precision sound card and an intuitive user interface that delivers detailed results in just 10 minutes. If necessary, users can print their reports and share them with medical professionals.
The Home Hearing Test will be available for purchase online.
"Hearing loss is a real public health concern with approximately 17 percent of American adults reporting some hearing loss – and less than 20 percent of those seeking help for their condition," said Dr. Gail Gudmundsen, managing director of audiology at Etymotic Research. "Monitoring and testing are moving into the home; today we can take blood pressure, check insulin levels, remotely monitor a pacemaker and perform a host of other health checks for ourselves. With the Home Hearing Test and the BEAN, Etymotic is putting control of hearing wellness into consumers' hands."
About Etymotic
Etymotic Research, celebrating its 30th year of innovation in hearing wellness solutions, is one of the most respected thought leaders in high-fidelity audio and hearing conservation. Etymotic produces noise-isolating earphones and headsets, diagnostic equipment, hearing enhancement and hearing protection products for consumers of all ages, including audiophiles, musicians, music educators, gun sport enthusiasts and many others.
For more information about Etymotic, its hearing wellness mission and its products, please visit http://www.etymotic.com.