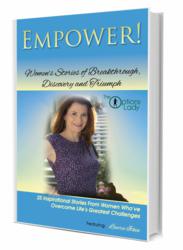 Financial independence isn't about being able to afford fancy cars and designer clothes. It's about knowing that wherever life takes you, you'll be able to invest in the things that matter.
San Diego, CA (PRWEB) June 27, 2013
San Diego Investment Advisor Laurie Itkin announces her co-authorship of the new book, Empower! Women's Stories of Breakthrough, Discovery and Triumph. The book includes insightful wisdom and empowering breakthroughs from 25 women who have encountered some of life's biggest challenges.
In her chapter, "An Allowance to Last a Lifetime," Itkin chronicles her journey of how she overcame obstacles – including being laid off twice in her early 20s – and the life choices she made in order to reach financial independence.
"My poor grandmother left me $1,600 when she died and instead of buying clothes and shoes as any typical 24-year-old woman would do, I bought my first shares of stock," said Itkin. "Through a concerted effort to work hard, save, live below my means, and invest in the stock market, I built a million dollar stock portfolio before I turned 40."
Itkin is donating half the profits from the book to Women's Empowerment International, which provides microfinance loans and business training to women in Mexico, Honduras, Ghana and San Diego, so other women can start businesses and work their way out of poverty.
"My grandfather invested in me by paying for the third of my college education that I could not cover through loans and part-time work; this is my way of investing in other women who need an opportunity to generate income for their families," said Itkin.
Empower! Women's Stories of Breakthrough, Discovery and Triumph can be purchased at http://www.theoptionslady.com.
About Laurie Itkin
Laurie Itkin is an investment advisor at Coastwise Capital Group in La Jolla, CA. She founded The Options Lady to educate and empower women to become successful investors using conservative stock and options strategies. Itkin speaks to a wide variety of audiences through live presentations and webinars. Her speeches include: "Love and Money: Why Every Woman Should Know Her Options;" "How to Generate Your Own Allowance;" and "Real Estate or Stock Market: Where Should I Invest My Money?" Itkin received her B.S. in Economics with a concentration in Finance from the Wharton School of the University of Pennsylvania.