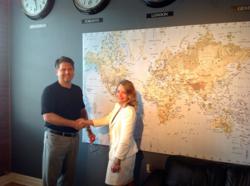 Jane Lavelle Farris and Opus CEO Larry Stevens Teaming Up To Help Alberta Disaster
Alberta (PRWEB) June 27, 2013
Jane Lavelle Farris asks Opus to help in relief efforts for Alberta.
Jane Lavelle Farris has been an Opus Workspace user since the app launched in late 2012. She has now called upon Opus to contribute to the relief efforts in Alberta in response to the devastating flood which hit Calgary and southern Alberta last week.
"We need to offer help," said Jane "We need to demonstrate that we care. We need to physically provide Albertans with the materials and services that will help them to rebuild their lives. And, we need to do this as quickly as possible."
Jane is now asking everyone in the country to do their part in helping their fellow Canadians in Alberta.
"Jumping on board with this effort was a simple decision to make," said Larry Stevens, CEO of Opus Workspace. "Within hours of speaking to Jane, our team had developed an interactive and immediate way for all Canadians to get on board. This is the beauty of our tool, and we are happy to help Jane and all Canadians in this effort."
Opus Workspace is an online collaboration app that makes it easy for anybody who wishes to respond to the immediate needs of the many people living in flood-ravaged Alberta.
Once you have joined the Alberta Relief Workspace, you can create, organize, discuss and accomplish day-to-day relief work, with a growing community of Opus users. As part of their contribution, Opus Workspace is now waving all cost for their software for all new and existing members who choose to help in the Alberta Flood Relief Workspace. The power of the collective mind. Opus was built to "lesson the Burden" in a very hectic situation, said Stevens.