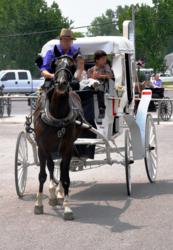 Harlan, IN (PRWEB) June 27, 2013
The small town of Grabill Indiana is the home to a large Amish community. As you ride through the country side of Grabill you can see the beautiful horses and farm land that is kept up by the Amish. It is here, in the heart of Amish Country, where Grabill Market Days finds a home. It is hard to think of another place that offers such a unique selection of products. The stands at the fair offer everything from local businesses, crafters, food, and a flea market. It would be a shame to never experience the delectable taste bud sensation of the Amish homemade baked goods. The fair will also be featuring a buggy ride around the block. Another great chance to experience some of the Amish Culture.
Vendors will be located in the West parking lot of the State Street Save-a-Lot Grocery Store, extending back to Grabill Country Sales, with expansion into the surrounding fields for the Flea Market. Olde Time Market Days will run each Saturday through September 28, 10:00 a.m. to 3:00 p.m. All vendors, farmers, artisans, crafters, businesses, and flea marketers are welcome. The cost is only $10/space or $125/16-week season.
For more information and applications, contact Diane Brow at 260-705-2867 or email GrabillMarketDays(at)gmail(dot)com; Elmer Langacher at 260-615-6751; or Grabill Country Sales 260-627-8330 (ask for Katie or Elmer Jr.).