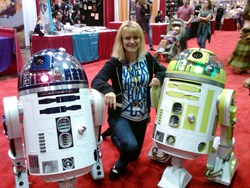 I have a smile on my face most days, but I write all dark and twisted.
Pheonix, AZ (PRWEB) June 27, 2013
With Autism rates skyrocketing to an epidemic 1 in 88, it seems about time that mainstream would accept a heroine, Kayla, with an Autism Spectrum Disorder.
In her new book, AJ Scudiere weaves an intricate plot around the plans of a long forgotten Eli Whitney invention. Known for inventing the Cotton Gin, Whitney was one of our country's famous inventors, and in The Shadow Constant, Scudiere crafts such plausible plot points that you never really know if the book is fact or fiction.
What is known is that by bringing Asperger's Syndrome to the forefront, addressing head on the behavioral adaptations those with the disorder face, it humanizes and even celebrates what only they can do.
Scudiere will be releasing The Shadow Constant at Comicon on July 19th. Books are available for pre-order and at the booth for autographs.
Media is encouraged to set up an interview time during the event, or schedule calls prior to the show.
Listen to a sneak peak behind the scenes of AJ Scudiere's new book The Shadow Constant in this interview with Adryenn Ashley.