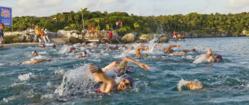 5th Edition of the Xel-Ha Triathlon
Cancún Quintana Roo, México (PRWEB) June 28, 2013
On the 5th edition of the Xel-Há Triathlon and due to the great demand by hopeful participants, 1,200 places will be assigned to triathletes through a special raffle, informed Elizabeth Lugo Monjarrás, Executive Director of the natural Park operated by Experiencias Xcaret.
The Xel-Há Triathlon, which is part of the National Circuit of the Mexican Triathlon Federation, takes place every year in the Riviera Maya, Mexico, 68 miles from Cancun. The location is magnificent: the swimming stage takes place on an inlet with 35 acres of water facing the Caribbean Sea; the bicycle ride is done on the Cancun -Tulum highway; and the run on a white Sascab route (Lime gravel) in the middle of the jungle. The Olympic event will take place on Saturday November 16th and the Sprint, Children and Women Beginners version on Sunday November 17th.
Elizabeth Lugo pointed out that the raffle will give all those interested in participating, the same possibilities to register for the Xel-Há 2013 Triathlon. Sign-ups for the raffle are already available on-line and will end on July 12th.
The draw will take place on Saturday July 13th at 10:00 a.m. at Xel-Há Park with the presence of a Notary Public.
Other 600 places have been set aside for the 1st place winners of each category in the Xel-Há 2012 Triathlon, the winners of the 2012 National Triathlon Circuit, those athletes who wish to cooperate with the Red Cross by attending a benefit Dinner for this non-profit organization and the participants of the Women Beginners category.
Elizabeth Lugo also made it known that, just as in past years, the full amount of the money collected from registration fees will be donated to the Turtle Preservation Program headed by Flora, Fauna y Cultura de México, A.C. She also announced that in keeping with the spirit of Xel-Há Park's endeavors since many years ago, the Triathlon will once again be Green.
Xel-Há's director noted that there are 100 thousand pesos in cash to be distributed among the Elite Category winners and 30 thousand pesos per category to be distributed among the winners of the Olympic and Sprint competitions.
For further information:
Iliana Rodríguez
Chief PR and Communications Officer
irodriguez(at)experienciasxcaret(dot)com(dot)mx
Cel: 044 (998) 845-5644