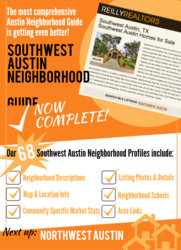 We're making sure that our customers have the most accurate information available for any neighborhood they may be interested in.
Austin, TX (PRWEB) June 28, 2013
Austin is continuing to expand at an enormous rate, with approximately 150 people moving to the city every day. As a result, builders are busy constructing and planning new neighborhoods, while eager homebuyers are searching the Internet for the perfect home. To assist the growing population in search of Austin homes for sale, Reilly Realtors continues to strive to provide the most reliable and accurate information about Austin real estate. As a result of their tireless efforts, the brokerage is excited to announce the completion of their Southwest Austin Real Estate Guide. This is great news for both newcomers and long time Austinites as this guide provides detailed neighborhood information for more than 70 different Southwest Austin communities.
Each neighborhood has its own page on the website with detailed information about that area. Neighborhood pages start with a paragraph describing the surroundings, amenities, price range, and feel of the area. This is followed by neighborhood listing statistics, including average price, square footage, year built, and more. Users will then find a map of the area that clearly outlines the community's boundaries. Following the location details, users can read about school information and find links to local restaurants, retail, HOAs, businesses, and more. Towards the end of the page, Reilly Realtors provides thumbnails of available listings and a table with links to other Southwest Austin neighborhoods. And to help their customers even further in their online home search, Reilly Realtors released a Southwest Austin real estate video on YouTube that further explains how to use their online guide.
"Our goal is to continue our track record of being known as the experts in Austin real estate," explains managing broker Michael Reilly. "By creating unique pages with detailed statistics and local knowledge, we're making sure that our customers have the most accurate information available for any neighborhood they may be interested in."
Southwest Austin is a large and diverse area, which makes this achievement all the more impressive. The area's boundaries stretch from Highway 290 and Highway 71 on the North, Travis County Line / IH-35 to the South, Mo-Pac / Slaughter Lane / IH-35 to the East, and the Travis County Line to the West. Because Southwest Austin covers such a large area, there is a wide range of lifestyles available to choose from. For those looking for the luxurious, The Overlook at Lewis Mountain features large lots and breathtaking hill country views, while buyers interested in family friendly communities with an abundance of amenities will likely venture into the very popular Circle C community. For buyers that are mainly focused on affordability, suburban areas like the Meadows at Double Creek and Southpark Meadows will be a perfect fit. Southwest Austin also offers a great variety of retail, restaurants, and entertainment, so residents need not travel far to meet all of life's daily needs.
With the completion of the Southwest Austin Neighborhood Guide, Reilly Realtors is one step closer to providing the most comprehensive Austin real estate website available. As has always been the case with this brokerage, hard work, attention to detail, and keeping their customers' needs in mind has resulted in another fantastic addition to their informative website. As they continue to expand their Austin real estate database, customers can expect to see completed guides for West, North Central, and Northwest Austin real estate in the very near future.
About Reilly Realtors, LLC
Reilly Realtors, LLC was formed in 2006 by Michael and Shae Reilly, and focuses primarily on residential home sales in Austin and surrounding areas. The brokerage is made up of more than 30 top producing agents with an average of 5 years experience. Reilly REALTORS operates the extremely popular website, AustinHomeListings.com, which allows the public to virtually search home sales in Austin with easy-to-use maps connected to data from the Austin MLS. For more information about Reilly Realtors, call 512-600-1800.