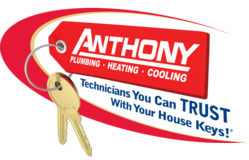 "Many times it's simple things that the homeowner just doesn't know to check before calling us." - Steve Burbridge, Anthony Plumbing, Heating & Cooling.
Kansas City, KS (PRWEB) June 28, 2013
When an air conditioner blows warm air, the first instinct is to call an air conditioner repair company to come fix it. Anthony Plumbing, Heating, & Cooling in Kansas City wants homeowners to know that many times there is a simple solution that, if checked, may save homeowners an unnecessary service call fee. There are a few reasons an AC blows warm air. Some the homeowner can check, and others require special tools and certifications (like handling refrigerant) and should be left to a professional.
Here are the most common ways you can avoid a false-alarm air conditioner service call:

Make Sure Your Thermostat Is Not Turned to "Heat". Check the thermostat to make sure it's on COOL, not HEAT. This seems obvious, but is often overlooked. This is common during the early season but the setting can also accidentally get bumped or changed any time during the cooling season.
Check/Change Your Air Filter. A dirty, clogged filter will choke off the air flow to the indoor cooling coil and eventually the coil freezes into a block of ice. This will be evident with frost or ice on one of the copper pipes leading from the indoor coil to the air conditioner outside.
Low Refrigerant Due to a Leak. A very tiny hole can allow enough refrigerant to leak out over the winter months that your air conditioner can't cool the air. Look for frozen pipes. If your AC has frost on the refrigerant piping, you'll want to thaw it out by turning the system OFF and setting the FAN to ON. The technician cannot perform service if it is frozen, forcing you to schedule another appointment . . . and wait all over again.
To learn more about air conditioning repairs and troubleshooting, visit http://www.AnthonyPHC.com.