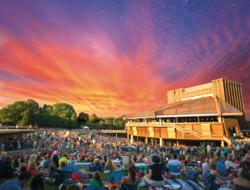 Vienna, Virginia (PRWEB) June 27, 2013
Jill Scott
Special Guest: Raheem DeVaughn
And Fiveology
Monday, July 15, 2013 at 8 pm
$40-$95
R&B soulstress Jill Scott is set to bring her provocative, passionate, and intelligent brand of music to her Filene Center debut. Her first album, Who Is Jill Scott? Words and Sounds Vol. 1 (2000), garnered four Grammy Award nominations, including Best Female R&B Vocal Performance for hit singles "A Long Walk" and "Gettin' in the Way." Aside from music, Scott is also a prominent actress, having performed in movies such as Why Did I Get Married? and a 2012 version of Steel Magnolias. She also founded the Blues Babe Foundation, which assists and gives college scholarships to underprivileged students, with a focus on Philadelphia, Pennsylvania and Camden, New Jersey. Scott's most recent album, The Light of the Sun (2011), debuted at No. 1 on the Billboard 200, her most successful start to date.
Video: Jill Scott — "A Long Walk"
Filene Center debutant Raheem DeVaughn describes himself as an "R&B hippie neo-soul rock star," and his successes in the R&B genre make this claim very apparent. In 2002 DeVaughn released his debut album, The Love Experience, which rose to No. 9 on the Billboard Top R&B/Hip-Hop charts on the strength of singles "Believe," "Ask Yourself," and "You." His follow-up project was critically acclaimed and gained two Grammy nominations for "Woman" and "Customer." The Love & War MasterPeace (2010), his third album, was heralded by AllMusic.com as "one of the most grippingly conscious major-label R&B albums of the last 30 years." He is set to release A Place Called Loveland later this summer.
Video: Raheem DeVaughn — "Guess Who Loves You More" and "Until"
Formerly known as The Blackson 5, Fiveology is composed of five nationally renowned slam poets. The group is made up of artists Rudy Francisco, Shawn William, Javon Johnson, Prentice Powell, and Andrew Tyree. They have performed in multiple National Poetry Slams, Nuyorican Grand Slams, and HBO Def Poetry Jams. Their thought-provoking performances cover race, equality, love, and death, which leave viewers with an unforgettable experience.
Jethro Tull's Ian Anderson
Plays Thick as a Brick 1 & 2
Tuesday, July 16, 2013 at 8 pm
$30-$45
Rock star icon Ian Anderson comes to the Filene Center to wow audiences with the memorable storytelling and catchy rhythms that have made his performances a sight to see. Initially starring as the flutist for British progressive rock band Jethro Tull, Anderson developed a unique style of performance—one leg up, flamingo style—that has stood as the group's iconic image. Beyond Jethro Tull, he has also become a successful solo artist, debuting his first independent album, Walk Into Light, in 1983. Anderson's most recent work, Thick as a Brick 2 (2012), expands on the life story of Gerald Bostock, a 10-year-old protagonist first featured in Jethro Tull's 1972 masterpiece of the same name.
Video: Ian Anderson — Thick as a Brick 2 Trailer
Verdi
La traviata
Grant Gershon, conductor
Wolf Trap Opera Company
National Symphony Orchestra
The Washington Chorus, Julian Wachner, Music Director
A Kay Shouse Great Performance
Friday, July 19, 2013 at 8:15 pm
$20-$70
Romance and betrayal are at the heart of Giuseppe Verdi's La traviata, a 19th-century opera based on La dame aux Camélias, an 1852 play. The opera follows Violetta Valéry, a famed courtesan, and her whirlwind romance with Alfredo Germont, a young nobleman desperate to gain her affection. Though they quickly grow to love each other, familial issues and self-doubts threaten the strength of their relationship, and what is left is a chilling lesson on consequence and everlasting love. Under the helm of Grant Gershon, the National Symphony Orchestra, soloists from the Wolf Trap Opera Company—including soprano Corinne Winters, "the best English National Opera Violetta in decades," according to Sunday Times—and The Washington Chorus will draw audiences into this enchanting tale about the perils of heartbreak and the power of scandal.
The Ultimate Doo-Wop Show
Jay Siegel's Tokens with special guest Jay Traynor
Maurice Williams & The Zodiacs
Jimmy Clanton
The Marcels
Larry Chance & Earls
The Tymes
Barbara Harris, original lead of The Toys
The Cookies
The Coda Orchestra
Saturday, July 20, 2013 at 8 pm
$22-$42
With nine artists and groups that have collectively sold more than 200 million records, this doo-wop concert classic will once again have the Filene Center grooving to the nostalgic hits of yesteryears. The Ultimate Doo-Wop Show features legendary performers like Jay Siegel's Tokens, whose monster hit "The Lion Sleeps Tonight" sold 20 million records and has sustained its popularity because of its inclusion in the Disney classic The Lion King. They will be joined by Jay Traynor, who led Jay and the Americans to their first Billboard Hot 100 hit, "She Cried," in 1962. Nashville-based Maurice Williams & the Zodiacs have been performing since the late '50s—their biggest hit, "Stay," has been covered by everyone from Frankie Valli and The Four Seasons to Jackson Browne and resurged in popularity in the '80s when it was included in the Dirty Dancing soundtrack. A teen idol of the '50s and '60s, Jimmy Clanton continues to perform his rock songs that shot him to stardom. The New Orleans native wrote and recorded hits such as "Just a Dream," "Venus in Blue Jeans," and "Go Jimmy Go," which was also turned into a hit movie.
The Marcels were known for giving classic songs a doo-wop makeover. Their largest success came with "Blue Moon," a melancholic love song that went gold and was featured in the Rock and Roll Hall of Fame's list of "500 Songs that Shaped Rock and Roll." With flawless harmonies and an uncompromising passion for music, Larry Chance & Earls have taken their Bronx-based vocals across the globe for nearly half a century. They ruled the doo-wop music scene in the late '50s and early '60s with singles like "Remember Then," "I Believe," and "Life is but a Dream." The Tymes were successful in both the United States and the United Kingdom, with chart-topping hits in both countries. Led by "So Much in Love," "Ms Grace," and "Somewhere My Love," the Philadelphia-based group was inducted into the Vocal Group Hall of Fame in 2005.
Barbara Harris, formerly of the Toys, became a '60s sensation with her 1965 hit "A Lover's Concerto." AllMusic.com described the single as "perfect" with "one of the most deceptively hook-laden melodies ever conceived." Starting out as background singers for Carole King, Neil Sedaka, and Little Eva, The Cookies eventually broke out on their own, enlisting King's help for their first single "Chains" (1962). This was followed by "Don't Say Nothin' Bad About My Baby" (1963). Later that decade, several of the founding members of the group eventually broke off and became Ray Charles's backup singers. The Coda Orchestra round out the doo-wop roster; they boast singles like "Buzz, Buzz, Buzz" and "Harlem Nocturne."
Video: The Ultimate Doo-Wop Show Live — Wolf Trap
Frankie Valli & The Four Seasons
Sunday, July 21, 2013 at 8 pm
$25-$45
Described by Rolling Stone as "a complete singer, with a multi-octave range and the ability to handle a variety of styles," Frankie Valli has been enthralling audiences with his legendary voice and classic hits for decades. In 1962 he and The Four Seasons released their debut album, Sherry & 11 Others, which included the classic Top 10 hits "Sherry" and "Big Girls Don't Cry." By 1966 The Four Seasons had sold 80 million records internationally, and in 1990 they were inducted into the Rock and Roll Hall of Fame. Valli has also had a prominent solo career, with singles like "Can't Take My Eyes Off of You" (1967), "My Eyes Adored You" (1975) and platinum-selling "Grease" (1978). Performing again with The Four Seasons, Valli continues to light up stages across the world.
Video: Frankie Valli & The Four Seasons — Live in Concert
Tickets can be purchased by calling 1 (877) WOLFTRAP or online at http://www.wolftrap.org. For more information, call Wolf Trap at (703) 255-1868.
High-resolution images of the artists listed are available on Wolf Trap's website: http://www.wolftrap.org/Media_and_Newsroom/Photos_for_Publication.aspx.
Wolf Trap is Metro accessible!
Our environmentally friendly Wolf Trap Express Bus travels from the West Falls Church Metro stop every 20 minutes starting two hours prior to show time. For details, please visit http://www.wolftrap.org/Plan_Your_Visit/Access_by_Metro.aspx.
###