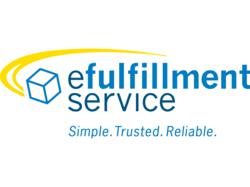 This is our first integration which allows our clients to indicate custom status changes for in-stock items as well as a status for out-of-stock items.
Traverse City, MI (PRWEB) June 27, 2013
eFulfillment Service (EFS), the nation's leading provider of order fulfillment services for small and mid-sized eCommerce sellers, today announces that it is now fully integrated with AmeriCommerce, a powerful, feature-rich platform for online selling.
"We're extremely excited to add AmeriCommerce to our growing list of integrations," says Steve Bulger, Sales & Marketing Manager at eFulfillment Service. "We've been getting more and more requests to integrate our software with this platform, and AmeriCommerce has allowed us to add some new integration features that make things even easier and more transparent for our clients."
eFulfillment Service provides eCommerce sellers with access to its proprietary, web-based order fulfillment software, called their Fulfillment Control Panel (FCP). "Our FCP system not only allows our clients to maintain constant visibility over their fulfillment operations," says Bulger, "it now automates the order submission process for AmeriCommerce storeowners, saving them even more time."
Features of the new AmeriCommerce order fulfillment integration with eFulfillment Service include:
Automatic Order Retrieval: Orders placed through an AmeriCommerce store are automatically received by eFulfillment Service's proprietary technology, allowing for fast, accurate order processing and fulfillment.
Order Received Status: Once the order is received for processing, eFulfillment Service updates the order status in AmeriCommerce so that AmeriCommerce storeowners and their customers know the order is moving forward.
Inventory Level Updates: Available inventory counts are sent back to AmeriCommerce to keep storeowners and their customers up-to-date on in-stock and out-of-stock items.
"This is our first integration which allows our clients to indicate custom status changes for in-stock items as well as a status for out-of-stock items," says Matt Burden, Vice President of Web Development at eFulfillment Service. "This allows for greater accuracy and control each time we sync the quantity on hand to the AmeriCommerce store."
"Technology is the backbone of fast, efficient logistics," adds Bulger. "With this new integration, we've automated one more step in the order fulfillment process, helping to improve speed and accuracy, and giving AmeriCommerce storeowners more time to focus on other things."
For more information on eFulfillment Service, please visit http://www.eFulfillmentService.com.
About eFulfillment Service
eFulfillment Service (EFS) is an established leader in eCommerce order fulfillment. Every day, hundreds of merchants around the world depend on EFS for fast, simple, affordable order fulfillment. With a 12-year proven track record, an accuracy rate that exceeds 99.9%, and friendly, straightforward terms that include no minimums, no setup fees and no long-term contracts, it's clear why eFulfillment Service has become one of the most trusted and dependable names in order fulfillment.