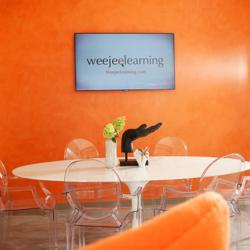 Eric promotes collaborative and creative techniques that Weejee Learning has always valued.
Durham, NC (PRWEB) June 27, 2013
Weejee Learning, a global provider of custom, interactive and fun e-learning solutions for corporations, non-governmental organizations, associations and nonprofits, continues its expansion plans with the addition of Eric Andrikaitis as interactive strategist. The position is newly created and distinctively fits Andrikaitis skill set – a unique combination of motion graphic design and unrivaled creativity. He joins the team with over a decade of related experience and will work to incorporate client branding and Weejee's instructional vision into impactful, innovative e-learning user interfaces.
"Eric promotes collaborative and creative techniques that Weejee Learning has always valued," said Ian Huckabee, CEO of Weejee. "He brings originality, unique perspective and passion to the job. That's exactly what we were looking for and also exactly what we strive for in every one of our clients' projects, extending our unique brand of fun into all learning. His creativity is a true asset and we're thrilled he's a part of the team."
Andrikaitis brings a history of involvement with graphic and production design most recently leading multimedia, graphic, editing and internal development teams to cultivate e-learning courses. He was previously with Cisco Systems as multimedia program manager and lead multimedia designer for e-learning. He also previously worked for Campbell Alliance and Centerline Digital in Raleigh, as well as Digitaria Interactive in San Diego. He strongly encourages collaboration between all team members and believes cooperation is the cornerstone of creative design.
Weejee's creation of Andrikaitis's position helps further establish it as a leading global provider of e-learning content development. The company, which was founded in 2010 and is headquartered in Downtown Durham, bases its work on research that shows learning in a positive emotional state stimulates the brain to learn more and that fun makes intimidating, perplexing information engaging and easier to comprehend. It has leveraged this approach for enterprises nationally and globally, providing custom digital solutions, curriculum and learning needs analyses, program design, social learning strategy, and instructional design and development.
About Weejee Learning
WeejeeLearning, LLC is a Durham, N.C.-based custom learning design and development company providing enterprise-wide e-learning solutions to corporations, NGOs, associations and nonprofits. Weejee focuses on making learning fun and more effective by combining the latest technologies and techniques with a high degree of creativity. Weejee optimizes the success of learning and training programs through highly interactive e-learning, instructional design, mobile learning and strategies for social learning and collaboration. For more information, visit http://weejeelearning.com.