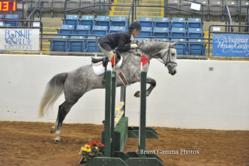 Norwood, North Carolina (PRWEB) June 26, 2013
We are anxiously awaiting the birth of the newest member to The Fork Farm family. Margaret is expecting her first foal any day now. Margaret, an Irish sport horse, has successfully competed up to the training level in 3-day eventing and fox hunts. Margaret was bred with the Holsteiners' stallion, who has sired many top event and show jumpers. The gestation period for horses is anywhere from 320-360 days with the average being 340 days. As of today, Margaret is at 324 days. This will be our ninth foal born at The Fork.
While not competing, Margaret enjoys being around people and her favorite foods are carrots and peppermint.
Keep updated with our Facebook and Twitter pages on the birth day of our little bundle of joy, along with his or her name.