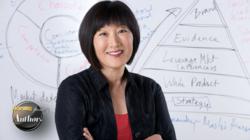 It was an honor to speak with Karen Kang. She is so talented and right on the money particularly when it comes to what personal branding and corporate branding can do for an individual or a company
New York, NY (PRWEB) June 27, 2013
Karen Kang, the owner and CEO of BrandingPays and the author of a book of the same name, shares her thoughts on the importance of corporate and personal branding in the age of the Internet, and the relationship of learning to success in an exclusive interview for SarderTV. Speaking with Russell Sarder, CEO of SarderTV, Karen who is a well known brand strategist, a former partner with Regis McKenna, and an experienced speaker and reporter, talks about how she came up with the idea for her book, BrandingPays, and how she explains the success of her company.
"It was an honor to speak with Karen Kang. She is so talented and right on the money particularly when it comes to what personal branding and corporate branding can do for an individual or a company," said Russell Sarder, CEO of Sarder TV. "Her philosophy which she shares generously in this interview has the potential to change people's lives," said Sarder.
Karen is one of many prestigious and well known individuals who have provided expertise, their secrets for success, life philosophies, and their interests in learning for Sarder TV. Sarder TV is a video database and learning channel that can be accessed by individuals looking to gain knowledge on a variety of subjects from experts in the fields of business, nonprofits, and education. The database is part of the international Learning Movement created by Russell Sarder to help spread knowledge and inspire a passion in lifelong learning. Operating on the premise that motivated individuals can learn from the experience, the success and the mistakes of others, SarderTV provides a unique opportunity to see and hear influential personalities talk about the subjects that matter to them. Some of the past interviewees have included Ira Neimark, former CEO of Bergdorf Goodman, Susan Davis, CEO of BRAC USA, and Dan Hoffman, best-selling author of Green to Gold, Andrew Winston.
BrandingPays
In her book BrandingPays, Karen Kang lays out a five step process to personal and corporate branding that she practices on a daily basis with her company. In the series of videos with Russell Sarder, Karen discusses the reasoning behind each of the steps in her "Five Steps System to Reinvent Your Personal Brand", which can help anyone from a student to a CEO according to Karen, find new opportunities, and help build impetus for the interests in one's life. Through personal branding, and dialoging with "influentials", and working the "ecosystem", a person can gain recognition, and trust, and the involvement of people who care about personal success. As Karen points out that without personal branding, you are invisible and you will miss out on important opportunities. When you are successfully branded and are considered a trusted expert in your field, you can use this acknowledgement to achieve success and to help improve the world. According to Karen, personal branding is not about becoming famous, it is about being able to support yourself and your family, accomplish your goals, and use your voice for the greater good. In the videos, Karen likens successful branding to baking a cake and icing it. Her use of the metaphor of cake and icing indicates her feeling that branding should be simple. In her metaphor, the cake is the foundation of the branding, while the icing is the emotional connection for a person or product. According to Karen, you need both cake and icing to create a strong brand.
Don't miss Karen Kang's interview: http://sardertv.com/tag/karen-kang/
SarderTV is also seeking leaders to interview and is targeting leaders from Fortune 500 companies, and exceptional public figures like Bill Clinton, Oprah Winfrey, Jim Collins, Bill Gates, Warren Buffet and many more. According to the National Venture Capital Association, more than 30 percent to $600 million this year has been invested in Web-based education. For investors seeking an opportunity to participate in a multi-million dollar idea, SarderTV presents an excellent investment and is actively seeking investors. Several investors have already expressed an interest in this innovative idea. Investors interested in becoming a part of SarderTV are invited to get in touch as well, contact us at russellsarder(at)netcomlearning(dot)com.
About Sarder TV
SarderTV is a learning channel that contains a series of exclusive educational interview videos from top leaders in their industries, as well as motivational videos encouraging our public to succeed in their personal and professional lives, and many more. Russell Sarder, CEO of Sarder TV, has interviewed a series of leaders, who have shared their experiences and how they were able to achieve their success. Some of the names that Sarder has interviewed are: Ira Neimark, former CEO of Bergdorf Goodman; Russ Edelman, co-author of Nice Guys Can Get the Corner Office, Andrew Winston, best-selling author of Green to Gold, Karen Kang, author of BrandingPays, and more.