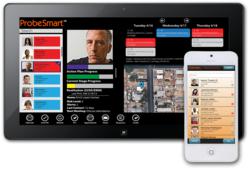 Live data gives Officers the chance to monitor released Probationers based on valuable information they're receiving in the field
Irvine, CA (PRWEB) June 27, 2013
ProbeSmart™, Gold Post Technologies, Inc. (GPT) mobile technology that provides valuable alerts and information to manage released Probationers and Parolees while reducing the risk to the community, won the Microsoft Quick Pitch competition.
The winning product is a patent-pending mobile technology providing real-time client monitoring of Probationers and Parolees via a feed of live information including arrest alerts, GPS mapping, and risk assessment algorythms. It's the first of its kind technology to give Probation Officers critical updates on their clients via a Tablet or Smartphone app, anytime, and anywhere.
"We really enjoy the opportunity to demonstrate how live data gives Officers the chance to monitor released Probationers, based on valuable information they're receiving right in the field," said Glenn Rouse, GPT's Senior Vice President of Sales.
The "Mix and Mentor" Quick Pitch competition was hosted by Microsoft and held at its South Coast Plaza Store in Irvine, CA. It is specifically for entrepreneurs, startups, and small business owners in need of technology to grow.
Each representative made a three-minute presentation to the Microsoft Mentor Panel on how Microsoft Products and Services have or will, "Enable their Business to realize its Full Potential." GPT's ProbeSmart™ was selected as the winner out of the finalists.
ABOUT GOLD POST TECHNOLOGIES:
Gold Post Technologies, Inc. provides innovative software products for the management of corrections and law enforcement. GPT's lead products are ProbeSmart™ to monitor and manage probationers and parolees via mobile technology, and MobileCPS™, specifically for Child Protective Services.