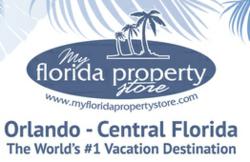 Orlando, FL (PRWEB) June 28, 2013
As a leader in real estate services for foreign nationals, My Florida Property Store, has always received a large share of its business from Canadians. Now more than ever, Canadians are flocking to the sunshine state for coveted real estate, especially in Central Florida.
According to a report released this year by the BMO Financial Group, more than 500,000 Canadians currently own property in Florida. Canadians account for roughly one-third of all foreign real estate purchases in Florida, making them the largest group of international purchasers in that region. My Florida Property Store does not see this number dropping anytime soon.
"Since 2004 we have seen a steady climb in interest from Canadian buyers in general, with many Torontonians recently purchasing property in Central Florida primarily as a lifestyle choice, for present and future use. Much of the demand however has been assisting many investors from the Greater Toronto Area (GTA) with strategic purchases to improve and diversify their investment or retirement portfolio."
Like many, Canadians are drawn to Florida for its warm winters a pleasant alternative to a season that often brings loads of snow for those north of the U.S. border. According to the Herald Tribune, and the Florida Association of REALTORS®, 13 percent of Canadian buyers are opting for homes in Central Florida. Central Florida real estate is ranked second in popularity among Canadian buyer's, beat out only by Sarasota. The wide array of attractions available for all ages in the Orlando area makes it an enticing locale to purchase a second home in. Central Florida truly provides a "one-size-fits-all" vacation experience.
In addition to the lure of Central Florida's weather and attractions, Canadians are also drawn to purchasing in Central Florida for favorable costs. According to the Herald Tribune, the median-priced of homes in Florida is nearly half the price of those in Canada. In addition to these savings, the Canadian dollar currently trades approximately 10 percent above 'fair' value versus the U.S. dollar. This valuation provides Canadian shoppers with extra buying power that they are content to assert in the Florida real estate market, which is perceived to be "on sale" currently.
Now more than ever is the time to buy in Central Florida. While affordability is up, the number of homes available for purchase is on the decline. Buying demand has outgrown the supply. My Florida Property Store welcomes news of growth in their industry, which nationwide has struggled to recover amid economic turmoil. My Florida Property Store boast a wealth of listings to ensure its customers receive the most coveted homes in Central Florida. Visit http://www.myfloridapropertystore.com to start a property search.
About My Florida Property Store:
My Florida Property Store (MFPS) specializes in the representation of foreign national and out-of-state clients in the buying and selling of investment properties, for short-term or long-term rental. MFPS boasts an extensive database of Villa Style Homes, Condos And Town Homes in Central Florida with a focus in Celebration, Davenport, Dr. Phillips, Kissimmee, Reunion, Windermere, the Metro Disney area and Lake Nona – "Medical City" corridor. The MFPS team is fully familiar with local customs in multiple countries around the world which is essential in order to communicate detailed local purchase information in an easily understood, simplified and explainable fashion. My Florida Property Store is a member of the Osceola County Association of REALTORS® and the National Association of REALTORS®.