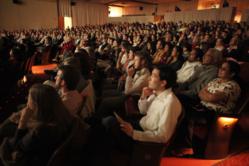 With the massive increase in talent and skill, absolutely every film is a must-see.
Los Angeles, CA (PRWEB) June 27, 2013
Fifty-Eight Slots Remain for the Aug. 8-10 Festival in Glendale, CA
Twenty-two short narrative films out of 152 submissions to the 11th annual 168 Film Project (http://168film.com) -- whereby filmmakers get seven days (168 hours) to shoot and edit a 10-min.-or-less short based on scripture -- have been named finalists, eligible for the Grand Prize, a feature film budget up to $1 Million from Presenting Sponsor EchoLight Studios, it was announced today by 168 Film Project Director John David Ware.
The balance of the Official Selections to the 168 Film Festival will be posted soon to http://www.168film.com, including Documentaries, Student, Animation and Write of Passage Spotlight Films made from 168's speed short screenwriting competition. Screening schedules and nominations will be announced after July 4th.
Of 22 finalists, there are seven international teams: Australia (4), South Africa (2) and Canada (1). Finalists from the USA are from California (6), Texas (3), Georgia (2), Colorado (1), North Carolina (1), Ohio (1), and Virginia (1).
The 2013 jury includes: Brian Bird, Writer/producer "When Calls the Heart;" Doug Butts, SVP of Programming at INSP; David L. Cunningham, Director "The Path to 911" and To End All Wars" starring Kiefer Sutherland; Leilani Downer, Writer "The Fresh Prince of Bel Air;" Bill Ewing, Producer, "End of the Spear;" Gary Hall, SVP of Fox Television Post Production, Beverly Holloway, Casting Director; Susana Zepeda, Sr. Director of Video Production at Fandango, NBCUniversal; Naima Lett, Producer, Brian S. Chan, Pastor at One Thing Hollywood and Alan Miller, senior pastor of First Baptist Church of Hollywood.
"We congratulate our filmmakers who took the challenge and got it done in 168 hours," said 168 founder and director John David Ware. "With the massive increase in talent and skill, absolutely every film is a must-see."
Approximately 80 short films will unspool at the 168 Film Festival in Glendale at the Performing Arts Center, 1440 E. Broadway, Glendale, CA 91205, Aug. 8, 9 and 10, 2013. The Sat. Aug. 10 awards show will include the Grand Prize presentation.
Festival tickets range from $15 to $59 for a VIP Pass. Tickets are on sale at http://168film.com. Student, and Senior Discounts are available. Parental discretion suggested for children 12 and under.
The 168 FILM FESTIVAL FINALIST FILMS FOR 2013 ARE:
Australia:
Elizabeth and Judah Simard's "Paladin" (Team 40, Brisbane, AUS) is based on Ephesians 5:1-2. Logline: Can battling brothers break free from the seedy prize-fighting underworld?
Aaron Kamp's "Never Too Late" (Team 41, Perth, AUS) is based on Exodus 32:31. Logline: Stealing a fresh look at life demands courage to change.
Dana Newell and Christopher W. Bailey's "Lost in the Dark" (Team 73, Lillyfield, AUS) is based on Exodus 21:23-25. Logline: A woman must reconcile with her captors or be thrown to the creatures of darkness.
Lyle and Lisa Carey's "The Red File" (Team 142, Sydney, AUS) Exodus 29:33. Logline: Michael's red-hot appetite for success forces a new diet.
Canada:
Justin Machnik's "Fathers & Sons" (Team 53, Calgary, CAN) is based on Ezekiel 16:63. Logline: An abusive father's passing gives his son unexpected revelation.
South Africa:
Diane and Shane Vermooten's "Freedom Road" (Team 116, Cape Town, South Africa) is based on Exodus 30:15. Logline: A woman comes face-to-face with her husband's murderer in South Africa's apartheid era.
John DeVries' comedy "Scapegoat" (Team 121, Cape Town, South Africa) is based on Exodus 30:16. Logline: An American tourist becomes the goat as he spoils a young African's plans.
U.S.A:
Kimberleigh Rene and Gary Voelker's "Abound" (Team 10, Arlington, VA) is based on Romans 5:20. Logline: A rebellious daughter takes her cue from a pool hustler.
Peter Wigand's "Blood" (Team 102, Aurora, CO) is based on Exodus 30:10. Logline: Battling his shameful sins, a man struggles to truly accept God's forgiveness.
Joshua Porter's "Fin Del Ano" (Team 103, Columbus, OH) is based on Leviticus 25:29. Logline: A horse trainer sees the heart of a champion.
Ashley Hollingsworth and Jared Hogan's "The Good Thief" (Team 143, Charlotte, NC) is based on Proverbs 14:9. Logline: Temptations are many, even after prison.
California:
Joth Riggs' "HEARTFALL" (Team 59, Westlake Village, CA) is based on Leviticus 1:4. Logline: A young woman struggles to reconcile with her father after a family tragedy.
April Garwood's "Bullied" (Team 99, Hollywood, CA) is based on 1 Samuel 2:24-25a. Logline: A bully realizes the impact of her cruelty.
Wes Halula and Chris Robert's "Stop Traffick" (Team 105, Montrose, CA) is based on Jeremiah 50:34. Logline: A suburban mom turns vigilante to rescue her daughter from the sex trade.
Nathanael Matanick's "ReMoved" (Team 111, Carpinteria, CA) is based on Hebrews 12:2b. Logline: A girl relives her painful journey through foster care.
Kors & Kim Vandiver's "LU" (Team 114, Los Angeles, CA) is based on Romans 5:15 Logline: A marine searches for a woman he wounded during a firefight in Iraq.
Elizabeth Hewes' comedy "The Trouble with Gum" (Team 146, Cypress, CA) is based on Romans 5:12. Logline: Who knew something so small could cause so much trouble?
Texas:
Chris Wiegand's "Ferre" (Team 38, Dallas TX) is based on Leviticus 1:4. Logline: An orphan's journey hinges on his new best friend.
Brandon Carmichael and Mark Blitch's "The Traveler" (Team 70. Plano, TX) is based on Leviticus 4:26. Logline: Grieving parents can fix the past, by paying the ultimate price.
Sondra Hicks "It's Not About Me" (Team 118, Richmond, TX) is based on Romans 12:1. Logline: Rebekah's cancer causes her and her friends to celebrate her life.
Georgia:
Josh McKague and Adam Dukes' "The Disquieted" (Team 133, Dawsonville, GA) is based on Jeremiah 50:34. Logline: A wife's infidelity leads to her captivity.
Nate Pope's "Justice Interrupted" (Team 144, Evans, GA) is based on Hosea 6:6. Logline: A superhero is publicly shamed after breaking the law he supposedly protects.
# # #