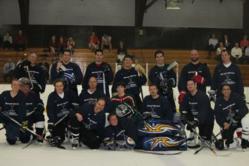 Farmington, MI (PRWEB) June 27, 2013
UHY LLP and Howard & Howard Attorneys PLLC took this concept to the ice as they squared off against bankers from Talmer Bank & Trust in a charity hockey game at Oak Park Ice Arena.
The two teams raised $1,765 for the Boys and Girls Club of Southeastern Michigan. Since 1926, Boys and Girls Club of Southeastern Michigan has provided high quality youth development programs, sporting activities, events and a safe haven for children from all walks of life.
"It was a great collective team effort by three outstanding professional services firms to help provide community support for a wonderful local cause such as the Boys and Girls Club of Southeastern Michigan. Special thanks also to Lou Schmidt Jr. for donating the ice at Oak Park Ice Arena and to Dick O' Dows for providing food and hospitability after the game," said Dennis Gistinger, Managing Director at Talmer Bank & Trust. UHY LLP and Howard & Howard defeated Talmer Bank & Trust 8 – 9. This is the second year the game has been played making the score even on both sides.
# # #
Editor's Note: To schedule an interview or for further questions, please contact Shannon Gnesda at sgnesda(at)uhy-us(dot)com or 586 843 2637.
About UHY LLP
UHY LLP, a licensed CPA firm, provides audit and other attest services to public and private companies. UHY Advisors provides tax and consulting services to a variety of sectors. UHY Advisors FLVS provides forensic, valuation, intellectual property, electronic discovery and international arbitration services to law firms and their clients. Many of these services grew from client business needs and their requests for assistance in a variety of areas of expertise.
UHY LLP, operating in an alternative practice structure with UHY Advisors, forms one of the largest professional services firms in the U.S. While that scale might provide confidence for some clients, others tell us our greatest value is the way we bring these resources to bear to help address today's evolving business challenges.
It's a philosophy we call "The Next Level of Service".
All of the above entities are members of UHY International, a global network of independent professional services firms that provide audit, tax and consulting services around the world. UHY International member firms comprise one of the top international accounting networks in the world. As a member firm, we provide our clients with resources in business centers strategically located around the globe. We are an active member in this organization with significant participation that brings the power of an international network to bear for our clients.
UHY LLP is a licensed independent CPA firm that performs attest services in an alternative practice structure with UHY Advisors, Inc. and its subsidiary entities. UHY Advisors, Inc. provides tax and business consulting services through wholly owned subsidiary entities that operate under the name of "UHY Advisors." UHY Advisors, Inc. and its subsidiary entities are not licensed CPA firms. UHY LLP and UHY Advisors, Inc. are U.S. members of Urbach Hacker Young International Limited, a UK company, and form part of the international UHY network of legally independent accounting and consulting firms. "UHY" is the brand name for the UHY international network. Any services described herein are provided by UHY LLP and/or UHY Advisors (as the case may be) and not by UHY or any other member firm of UHY. Neither UHY nor any member of UHY has any liability for services provided by other members.