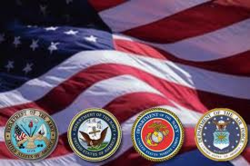 Austin, TX (PRWEB) June 27, 2013
CHORE Masters, the leader in franchised property concierge services, is pleased to announce their company initiative to ensure that 20% of the company's franchise ownership be granted exclusively to military personnel and veterans by end of 2016.
"We are very passionate about supporting our servicemen and servicewomen, and believe offering them the opportunity to start their own business is one of the best means to do so. There are currently an estimated 1 million veterans unemployed and another 1 million that will be discharged and entering into the private sector over the next 5-7 years. "That is a lot of people to employ, and the fact is, many are seeking to – and should - own their own business and we are going to help them achieve that goal. Period!"
"We want to offer support, both through mentorship and through programs aimed to help our military community receive financial support and training," commented Jeffrey S. Jackson, Founder and CEO of CHORE Masters. "If they decide on a CHORE Masters franchise, that's great, but we are offering the support, training and mentorship for all veterans who would like to be entrepreneurs."
As a VetFran Member offering a substantial 20% discount off initial franchise fees to all veterans, CHORE Masters pledges to support America's military men and women, helping them to realize their dreams of owning their own businesses. A key component to the initiative will be the company's participation in events such as Recruit Military Career Expos.
CHORE Masters is sponsoring a unique free entrepreneurial summit at an upcoming Recruit Military event, titled "Master Your Future" designed to educate and establish collaborative circles of attendees on the "why's and how's" of starting your own business. The event will be in the Dallas/Fort Worth area July 18, 2013, and is ideal for veterans, would-be entrepreneurs and individuals seeking a second career.
CHORE Masters is offering free admission to this event. But seating is limited, so potential attendees are urged to reserve their spot at http://masteryourcareer.eventbrite.com/.
About CHORE Masters, LLC
CHORE Masters is a one-stop property maintenance, management and repair concierge service, which saves time and money for home and commercial property owners by providing hassle-free single-source services for its members on a regular and as-needed basis. Members receive a personalized property assessment, single-source account management and billing, expert service from the highest quality professionals in their area, and 24/7 emergency services. Headquartered in Austin, TX, CHORE Masters' unique business model is expanding rapidly and is available for franchising nationwide to qualified candidates. Please visit (http://www.mychoremasters.com/) for more information or contact franchise sales toll-free at 855-MY-CHORES.