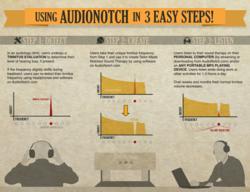 The AudioNotch blog is the internet's leading source for news on tinnitus treatment and tinnitus research.
Toronto, Ontario (PRWEB) June 27, 2013
On June 27th, 2013, The AudioNotch blog celebrated an important milestone: its one-hundredth post. The AudioNotch blog is the internet's leading resource on tinnitus - the go to place for new updates on tinnitus treatment and tinnitus research. Whereas most of the existing blogs that write about tinnitus write almost exclusively commercial posts, AudioNotch's blog has expanded to include posts on the latest in advances in tinnitus science and treatment.
The blog features regular updates on basic science research in the field of tinnitus. Tinnitus research is an exciting area of research, with real gains being made on an ongoing basis. Our understanding of tinnitus is improving year after year, and the AudioNotch blog aims to simplify the basic science research so that a layperson can understand the neuroscience behind it.
A frequent topic of discussion is spreading information awareness about so-called "tinnitus cures," and why patients should be skeptical of any tinnitus treatment marketed as such. Presently, medical science has not found a cure for the most common form of tinnitus - that caused by hearing loss. For this reason, AudioNotch is deliberately described as a tinnitus treatment (not a cure).
Also discussed are recent advances in tinnitus treatment research. Tinnitus treatment is the subject of a great deal of academic research, with a variety of pharmacological and other techniques being applied. Some of these treatments are in human clinical trials and the AudioNotch blog keeps track of these. In summary, the AudioNotch blog is the best source for patients seeking to learn more about the most up to date information on tinnitus in an accessible format.