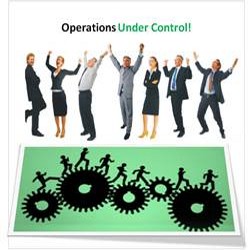 Simply by standardizing on a best practice in a single department's operations, one customer organization saved $360,000 a year.
St. Louis, MO (PRWEB) June 27, 2013
In the newest in a series of whitepapers, COMPROSE Inc. examines how having good standard operating procedures is a powerful strategy any company can employ to improve bottom line results.
The white paper "5 Reasons Every Company Needs Good Standard Operating Procedures" is downloadable from the COMPROSE website. The article cites numerous real-world examples to explain in simple terms how standardizing operations around clear best practices can drive down costs, eliminate errors, reduce waste, avoid "dropped balls," and protect against "brain drain" when employees leave.
By focusing on efficiency and people productivity in everyday operations and then standardizing operating procedures using best practices, organizations of all sizes in every industry are finding real, measurable improvements they can implement for high ROI. The whitepaper outlines how implementing good standard operating procedures is key to achieving these 5 important business goals:
1. Cutting Costs
2. Working Faster / Eliminating Waste
3. Better Utilizing Staff and Supervisors
4. Navigating Change and Uncertainty
5. Preparing for Growth
One example illustrates how a customer organization was able to save $360,000 a year simply by standardizing on a best practice in a single department's operations. In another example, a banking and financial services organization standardized SOPs and best practices across 190 branches to successfully navigate a series of mergers and better manage in an increasingly complex and regulated environment. Their Branch Operations Vice President cited their success:
"…. benefits of standardization have been increased accountability and knowledge retention. With the various mergers and expansion, people were leaving branches who had critical knowledge in their heads. Also, until we had accurate, standardized SOPs for all branches, there was no way to really hold people accountable for correct performance. Now everyone has the same policies and procedures in place."
Since 1987 COMPROSE, Inc. has worked with hundreds of organizations to streamline and standardize their operations. COMPROSE is a single-point resource for any organization that wants to bring more structure to the people side of their business. Hundreds of organizations already use COMPROSE's Zavanta software to standardize operating procedures and best practices. The COMPROSE website highlights client success stories including improved performance, faster ramp-up, reduced training costs, and streamlined regulatory compliance.
COMPROSE Zavanta® software breaks through the limitations of conventional approaches with a faster, better way to capture, maintain, and deliver clear standard operating procedures, policies, training manuals and work instructions that employees actually use and understand--accessible 24/7 from their browsers.
COMPROSE also provides informational whitepapers and authors a series of blogs on operations improvement and training including corporate training best practices, and Policy and Procedure Best Practices focused on getting the highest return on investment.