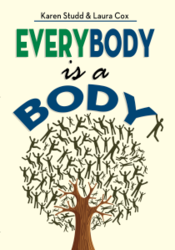 (The book) aims to help readers re-discover movement and how they relate to all people, whether they are professional athletes, performers or couch potatoes.
POTOMAC, Md. –
(PRWEB) June 28, 2013 -- Movement is a fundamental human activity, but increased reliance – and use – of technology has changed how people interact with the world. This new book purports that even as people can connect with each other across the globe almost instantaneously, people are becoming increasingly disembodied, leading to "dis-ease" in physical, emotional and intellectual selves. Authors Karen Studd and Laura Cox, noted experts in movement, promote awareness of the potential and power of human movement as a means of expression.
"Everybody Is a Body" aims to help readers re-discover movement and how they relate to all people, whether they are professional athletes, performers or couch potatoes. Movement is such an unconscious, constant presence that people can begin to feel disconnected from body experiences and even their own physical existence. Technology and increasing specialized movements can enhance that disconnection. The authors write that this feeling, which they describe as "not feeling comfortable in one's own skin," can develop into actual chronic pain and disease. Movement awareness helps avoid stress and stressful situations, contributing to better health and well being.
The book cover all aspects of movement, starting with a chapter on basic information about movement itself and including chapters on how movement relates to language, posture and moving the whole body, moving portions of the body, the beauty of rotation, core support, the dynamic expression of movement, body shape, expression of space, and awareness. Language itself is infused with references to movement, the authors point out, especially when describing emotions: someone's heart wrenches when parting with a loved one or a person will lose his breath when taking in a spectacular view. But studying movement is not simply an academic exercise, the authors note. Understanding movement and keeping in touch with how someone's physical being relates and moves in the world is important to experiencing life to its fullest. As the authors write, "Knowing something about who you are as a mover leads to greater knowledge about who you are as a person."
Author Karen Studd, who teaches movement analysis, somatics and dance, is master teacher for the Laban/Bartenieff Institute of Movement Studies, teaching internationally for training programs in movement analysis. She also serves as professor at George Mason University. Studd, known as a "body language expert," has a master's degree from the University of Oregon and is a certified movement analyst and registered somatic movement therapist and registered somatic movement educator. Laura Cox, a certified movement analyst and registered somatic movement educator and therapist, teaches Laban/Bertenieff movement studies, dance, kinesiology and somatics. Cox, who has a master's degree in dance and dance education from New York University, has taught internationally and has a private practice in movement education, specializing in working with people suffering from chronic pain or injury. She's been a faculty member of New York University and the University of Nebraska among others.
----------
For additional information, please visit http://www.everybodyisabody.com.
Karen Studd and Laura Cox
Everybody Is a Body
Dog Ear Publishing
ISBN: 978-1-4575-1850-8 184 pages $44.00 US
Available at Ingram, Amazon.com, Barnes & Noble and fine bookstores everywhere.
About Dog Ear Publishing, LLC
Dog Ear Publishing offers completely customized self-publishing services for independent authors. We provide cost-effective, fast, and highly profitable services to publish and distribute independently published books. Our book publishing and distribution services reach worldwide. Dog Ear authors retain all rights and complete creative control throughout the entire self-publishing process. Self-publishing services are available globally at http://www.dogearpublishing.net and from our offices in Indianapolis.
Dog Ear Publishing – self-publishing that actually makes sense.