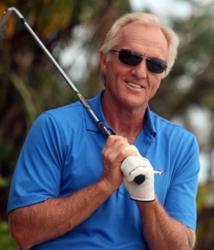 We have come to expect great things from Greg Norman. This is destined to be another major victory for 'The Shark'
Dallas, TX (PRWEB) June 27, 2013
Prescription Golf Sunglasses must balance the need for increased UV protection with lightweight style and comfort. Golf legend Greg Norman is uniquely qualified to merge the needs of the serious golfer with current fashion trends. The Greg Norman Shark can be found on fashionable sportswear in many upscale department stores. The shark is now part of the ADS Sports Eyewear collection of prescription sunglasses for golfers.
All Greg Norman semi-rimless sunglasses for golfers are available with a new prescription lens design that provides the sharpest vision ever possible throughout the entire lens. ADS Sports Eyewear also has a new Digital Lenticular lens design that can accommodate prescription up to a +5.00 or -10.0 without the excessive thickness traditionally associated with these high prescriptions in large lenses. All prescriptions on these wrapped frames are surfaced with a new technology that maps out every point on the back of the lens to insure that the entire lens is usable.
ADS Sports Eyewear is enthusiastically welcoming the Greg Norman Collection to their online inventory of prescription sports sunglasses. Dave DuMais, owner of ADS Sports Eyewear, was quoted saying "We have come to expect great things from Greg Norman. This is destined to be another major victory for 'The Shark'".
ADS Sports Eyewear has sold prescription sports sunglasses for the past decade. Reviews and advice and hundreds of sunglasses can be found on their web site, http://www.ADSEyewear.com.