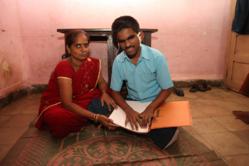 A key has been turned to open the door to opportunities for persons who are blind ...
Watertown, Mass. (PRWEB) June 26, 2013
Formal adoption of a new international treaty that will improve access to books for people who are blind, visually impaired, or have other print disabilities is expected on Thursday, June 27, in Marrakesh, Morocco. Negotiators from the World Intellectual Property Organization (WIPO), the United Nations agency that addresses rules governing rights such as patents, copyright, trademarks, designs, etc., agreed upon key provisions reached an agreement early Wednesday.
Worldwide, less than one percent of all books are accessible for people who are blind. "The scarcity of accessible materials has created a global 'book famine' for people who are visually impaired or cannot read print because of a disability," said Steven Rothstein, president of Perkins and Perkins School for the Blind, the first school for visually impaired students in the U.S. "While some countries' copyright laws allow for unrestricted publication of books in accessible formats, that is not true in every nation. This new treaty is a huge step forward toward access to literacy for all. We applaud this milestone."
The Diplomatic Conference convened in Marrakesh this week with the goal of finalizing the language for the treaty after five years of work. More than 180 member states compose WIPO.
Dr. W. Aubrey Webson, director of Perkins International which partners with programs in 67 countries, is particularly sensitive to the issue. He is blind and has been watching the progress of the WIPO treaty for years. "Just as disability activists lauded the passage of the United Nations Convention on Rights for Persons with Disabilities in 2007," said Webson, "so today we celebrate another shift in the direction of the world's march toward true access and equal opportunity. A key has been turned to open the door to opportunities for persons who are blind and those with print handicaps. It shows that even a small group of dedicated persons can change the world and in this case, indeed they have."
Perkins provides education, services and products to people who are blind, deafblind, or visually impaired with other disabilities, to build more productive and meaningful lives. Perkins pursues this mission both locally and globally. Founded in 1829, Perkins reaches more than a half million people each year in 67 countries around the world. The organization advances its mission through its various divisions: School for the Blind, International, Library, eLearning, and Products. Learn more at http://www.Perkins.org.