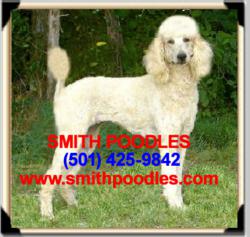 New litters of Standard Poodle, Parti Poodle, and Phantom Standard Poodle puppies are now available for viewing and purchase from Smith Poodles at http://www.smithpoodles.com.
LITTLE ROCK, ARKANSAS (PRWEB) June 27, 2013
Leading poodle breeder Smith Poodles is now offering new litters of Standard Poodle, Phantom Standard Poodle, and Phantom Standard Poodle s that are available for viewing and purchase on their website. The safest and most humane way to purchase AKC Standard Poodle puppies is through a professional breeder who is dedicated to the health and treatment of its animals, and Smith Poodles stands out as one of the premier suppliers of purebred puppies in the nation. Smith Poodles has been passionately dedicated to maintaining the highest quality of its Standard Poodles for sale, and they continually strive for improvement of health, intelligence, temperament, conformation, uniformity, and beauty in all of their standard puppies for sale.
Nestled in a sprawling, secluded, country setting 15 miles from the Little Rock Airport, Smith Poodles' kennels provide an ideal atmosphere where their dogs have wide-open spaces to romp and exercise. All of the Smith puppies and more mature dogs are well socialized when buyers receive them. Every Smith Poodle is thoroughly health checked and bred from parents that are health certified.
Smith Poodles' breeding program is designed to produce genetic strengths in a conscientious effort to prevent undesirable traits and/or health problems within the breed.
In addition to their heralded Standard breed, Smith Poodles also produces top rated Parti Standard Poodle puppies for sale, Phantom Standard Poodle puppies for sale, and Brindle Standard Poodle puppies for sale. Their Standard Poodles puppies are available in most of all-solid colors, as well as mixed colors.
Owners Mick and Ann Smith have dedicated their long history in poodle breeding to poodles with proven bloodlines, and they refuse to sell to brokers or pet shops. They avidly support the Poodle Club of America, the American Kennel Club, and the United Kennel Club.
Smith Poodles occasionally offers young adults and some that are a few years older. "When our Dams and Sires are ready to retire, we place them for adoption," the Smiths explain. "This year we plan to cut back on our breeding program and we will have a few younger adults for sale.
"We generally breed our females to have their first litter at about two years of age. Our Dams usually have one litter annually. We usually retire both Sires and Dams at six to seven years old, at which time they are ready for placement with new owners. We raise them all from babies and love them; therefore, we require that prospective buyers come here to ensure that they are a great match for their new owners. They are all doggie door trained and well socialized to fit into the buyer's home with minimal adjustment."
All dogs are transported on commercial airline flights in heated/air conditioned and pressurized compartments for their comfort and safety. Smith Poodles ships delivers puppies to all states and has made several international sales to happy satisfied buyers.
All poodles for sale can be viewed at the breeder's website, smithpoodles.com. Buyer can also view the profiles and photos of sires and dams on the website. Telephone inquiries can be made at (501) 425-9842 between 8 AM and 10 PM CST, and dogs can be seen by appointment along with tours or the Smiths' state of the art, full service facilities.