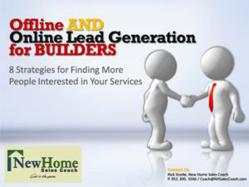 I have clients increasing sales of by additional $1 Million annually after implementing my strategies for working with Realtors.
Minneapolis, Minnesota (PRWEB) June 27, 2013
Lead generation is imperative for home builders and home remodelers in today's market. Rick Storlie of New Home Sales Coach reveals eight powerful strategies for lead generation in his new five-part video training series.
It's no surprise that online marketing has impacted successful lead generation techniques for home builders and remodelers.
"Today, most prospects start shopping for their new home, or planning for their remodeling project by searching the internet," said Rick Storlie, CEO of New Home Sales Coach. "Focusing solely on one or two types of lead generation strategies just isn't enough these days."
Storlie has just released the second video training, in his five-part series, titled "Offline and Online Lead Generation for Home Builders: 8 Strategies for Finding More People Interested in Your Services."
In the first video, Storlie revealed updated strategies for using model homes or pre-sold projects and new ideas for getting a better ROI with print marketing.
In this second marketing training for contractors video, the viewer will discover how to run events for new home lead generation, and the best, most effective realtor outreach programs.
"Most home builders make their events way too difficult," Storlie explained, "The reason your prospects come is to see your design, learn about your locations and get information on pricing – that's it."
Storlie's realtor outreach and connection programs also have proven results.
"I have clients closing sales for home builders of more than one million dollars after implementing my strategies for working with realtors," Storlie said.
To access this free training series, go to: NHSalesCoach.com/landing-perfect-prospects-step-two.
About Rick Storlie:
Rick Storlie of New Home Sales Coach has been helping builders and remodelers reach their sales goals since 1992. Visit NHSalesCoach.com to access Rick's free Sales and Marketing Library full of tips – from generating new leads, Realtor strategies, sales techniques and sales management secrets. Storlie can be reached at 952-895-5566 or SellMore(at)GameDayCoaching(dot)com.