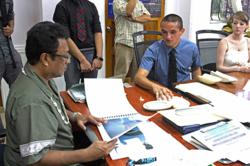 Los Angeles, CA (PRWEB) June 27, 2013
Students from Otis College of Art and Design traveled to the Western Pacific Republic of Palau for continued work on the Palau Freedom Memorial Project, a collaboration with the Palauan government and Palau Community College to design a memorial commemorating Palauan military war veterans from WWII to the present. Andrew Leeka, President and CEO of Good Samaritan Hospital in Los Angeles, brought the memorial project to Otis in 2009 with the intention of using the creative talent of Otis students to honor Palauans that have served and died as members of the U.S. military. Otis students have worked in teams for three years on the project for the people and government of Palau.
The Freedom Memorial is to be built at Long Island Park in Koror, Palau. The proposed design incorporates a series of volcanic limestone monoliths, representing eight fundamental principles taught to Palauan children in their homes and clubs – 1) Respect, 2) Responsibility, 3) Occupation, 4) Obedience, kindness, and perseverance, 5) Visits to kin and others, 6) Humility and verbal conduct, 7) Care and compassion, 8) Concern for the needs of family. They are arranged in a spiral pattern resembling a conch shell, evoking the Palauan tradition of using a conch shell as a horn to announce war, the passing away of titled men, or to summon the community to the house of Chiefs for important meetings. The monoliths will be erected alongside Toluk carvings (prestigious valuables in Palauan culture, exchanged on important occasions such as births, marriages, or deaths) that line the spiral shape. The design extends into the water with several submerged bowls, visible while the tide is out, that will become natural tide pools over time, serving as underwater attractions and homes to marine life.
Public artists May Sun and Jeffrey Vallance, along with ethnologist Cindi Alvitre, taught the Palau Freedom Memorial course. Students explored Palauan history and culture, collaborated on a large-scale work of public art, and used their art and design skills to realize the project. Oral narratives collected from the sixteen States of Palau were incorporated into the design of the monument. Students traveled to Palau and presented their final concept to both traditional—the Council of Chiefs, Matriarchs, and Queen—and democratic—President Tommy Remengesau Jr., Senators, and Delegates—forms of government.
Creative Action: An Integrated Learning Program offers BFA students at Otis College of Art and Design collaborative and community experiences that extend beyond the boundaries of their major. Students work in trans-disciplinary teams, in tandem with a community and/or corporate partner. They focus on team building, research, and implementation of real-world solutions that address the needs of the partners. The goal is to extend the traditional boundaries of the classroom, and to respond creatively to community challenges.
About Otis College of Art and Design
Founded in Los Angeles in 1918, Otis College of Art and Design prepares diverse students of art and design to enrich the world through their creativity, their skill, and their vision. The College offers an interdisciplinary education for 1200 full-time students, awarding BFA degrees in Advertising, Architecture/Landscape/Interiors, Digital Media, Fashion Design, Illustration, Graphic Design, Product Design, Painting, Photography, Sculpture/New Genres, and Toy Design; and MFA degrees in Fine Arts, Graphic Design, Public Practice, and Writing. Continuing Education offers certificate programs as well as personal and professional development courses. Additional information is available at http://www.otis.edu.